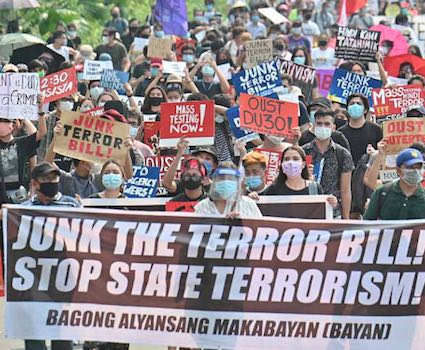 When it comes to legislation, people rarely oppose acts that are meant to combat terrorism, especially after the terrorist attacks on September 11, 2001. At face value, legislation that strengthens security measures against terrorism appear to be beneficial for all of society. Unfortunately, this is not always the case.
On July 3, 2020, Philippine president Rodrigo Duterte signed into law the "Anti-Terrorism Act of 2020," also known as the Junk Terror Bill, in replacement of the Human Security Act of 2007. The Philippines is no stranger to human rights violations, and this act exacerbates the already existing problems in the country. The Act was passed in order to "prevent and stop" terrorist attacks occurring in the country by targeting individuals who are profiled to commit acts of "terrorism," that is, the overly broad definitions of terrorism that were created under the new law.
Some of the definitions of terrorism include: "engaging in acts intended to cause death or serious bodily injury to any person or endanger a person's life"; "causes extensive damage to public property"; and "engaging in acts intended to cause interference with, damage, or destruction to critical infrastructure." Furthermore, it is a federal offense for any person who propose, incite, conspire and participate in planning, training, and facilitation. People who assist or support others in these actions can also be punished. Suspects can be apprehended without a warrant, detained without charge for 24 days, and face between 12 years to life in prison without parole for committing these offenses, which largely threatens the human right to due process of the law.
Another threatening aspect of the law is its ability to punish those who commit "terrorism" through speeches, banners, writings, emblems, and proclamations. The broadness of this definition poses a huge danger to the rights to freedom of speech, freedom of the press, and freedom of expression. Although the Anti-Terrorism Act is meant to exempt work such as advocacy and humanitarian action, it is ultimately up to Anti-Terrorism Council to determine what constitutes a violation. The language of the bill appears to guarantee protection for these groups. However, the actual execution of the bill suggests otherwise. Hundreds of community activists, local journalists, Indigenous leaders, environmentalists, and other leaders who have spoken out against Duterte have been "red-tagged" as Communists and/or terrorists. This label given to them by the government gives the government cause to place them under surveillance, harass them, threaten them, and even arrest them.
Among these leaders is Maria Ressa, co-founder and CEO of Rappler, a Philippine online news website. Maria was found guilty of cyberlibel by the Philippine government, as well as other charges, such as criminal cases alleging illegal foreign ownership in her companies and tax returns. Benjamin Ramos, an active human rights lawyer on the Negros Island, was another who was shot dead. He and his family still face threats, and his case has not yet been brought to justice. In addition to major activists and journalists, the Philippine police have also arrested students for protesting the bill. To make matters worse, the bill expands the right of police to use force on suspected terrorists and removes accountability measures that existed in the previous versions of the law. Under the previous law, law enforcement agents who wrongfully detained suspects could be penalized 500,000 pesos ($10,000) for every day of wrongful detention.
Why is this important? The Philippines is not the only country with anti-terrorism laws. In fact, over 140 governments have passed anti-terrorism laws since the attacks on 9/11, but not all of them contain coded language that fosters a multitude of human rights violations. However, a substantial number of them–such as Egypt, Ethiopia, and Turkey–passed similar legislation that led to many abuses of state power in their countries. It is important to recognize attempts to undermine human rights by leaders, such as Duterte, in order to hold them accountable and protect the freedoms of the people.
In addition to the campaign on anti-terrorism, the Duterte Administration has committed and/or exacerbated various other human rights violations, according to the Office of the High Commissioner for Human Rights (OHCHR). The state openly incites violence and hatred. When asked how he would address the country's high murder rates for journalists, President Duterte responded with, "Just because you're a journalist you're not exempted from assassination, if you're a son of a bitch."
Next to anti-terrorism, the other most prominent campaign in the Philippines is the war on illegal drugs, which has resulted in the widespread and system killings of over 8,600 suspected drug-users and dealers since 2016, with other estimates being over triple that total. Furthermore, the government's lack of protection for Indigenous peoples and farmers has caused the displacement of many, especially as armed clashes surge in certain regions of the Philippines.
As a state party to multiple human rights treaties, including the International Covenant on Civil and Political Rights, the Convention Against Torture and Other Cruel or Inhuman or Degrading Treatment or Punishment, and the International Covenant on Economic, Social, and Cultural Rights, the Philippine government must be held accountable for the violation of human rights granted in these treaties. Reports on the violation of human rights by international actors is only the first step towards accountability. This issue has been ongoing. Allies must take action to empower the people of the Philippines, denounce and combat Duterte's attempts to weaponize the law, and conduct thorough investigations into these violations.
Mirashaye Basa is a graduate student at American University in Washington, D.C. She is pursuing a Master of Science in Justice, Law, and Criminology and holds a Bachelor's Degree in Political Science. She is passionate about researching social justice and human rights issues, especially at the intersections of race, gender, class, and ability.
Comments in Chronological order (0 total comments)