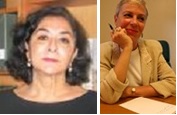 Two experts in women's studies discuss the state of women's right in the post-Arab Spring states. Edited by Adriana Stephan. 07/24/2014
Women in the Maghreb: Late but significant progres



Summary: Women's rights progress in the Maghreb region of Africa since the Arab Spring. By Mansouria Mokhefi,special advisor on the Middle East and North Africa at the French Institute for International Relations IFRI.

Response: Over the past half century, demographic changes, intense urbanization, mass schooling and the feminization of labor are among many social and economic factors that have highlighted the profound changes affecting the traditional family model as well as the organization of society in all countries of the Maghreb. However, even though the average length of schooling has more than doubled in most of t... more

Arab Women in Post-Revolutionary Politics



Summary: A look at women in the political sphere within the Arab Spring nations. By Dr. Miriam Cooke, Braxton Craven Professor of Arab Cultures at Duke University and Director of the Duke University Middle East Studies Center.

Response: There is a pattern in women's political participation during times of national upheaval: they're in when they're needed they're out when they're not. The Algerian Revolution provided the template. In 1954, women rose with the men to oust the French, who had colonized their country for 124 years. So effective were the women that Frantz Fanon immortalized their ways of fighting in his phrase "strate... more

Educational Reforms for STEM Studies? - 10/28/2013
President Obama has highlighted innovation in education and research within the Science, Technology,... more...

The post-Arab Spring and U.S. Policy - 2/3/2012
IA Forum asks: "The Arab Spring has transformed the old familiar landscape of the Middle East into a... more...

Dealing With The Afghan Warlords - 9/9/2010
IA Forum asks a group of experts: Given the many issues the US faces in stabilizing Afghanistan, a ... more...