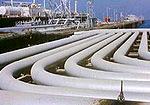 Given the recent controversies over state intervention and business tactics, what does the future hold for Russian energy and its effect on Russian political relationships in Europe? (08/29/2006)
Igor Torbakov, Journalist



Response: The vision of Russia becoming an "energy superpower" – an idea actively advanced by President Vladimir Putin – rests on another Kremlin pet doctrine – namely, the concept of "energy security." But Russia and Europe sharply diverge in their understanding of what "energy security" means.

For Moscow, energy security can be achieved if the principal customers (first of all, the EU and the U.S.) a... more

Dr. Derek Averre, European Research Institute



Response: After a decade in which Russia rarely made front-page news – eclipsed by 9/11 and upheavals in the Balkans, Afghanistan and Iraq – the recent period has prompted renewed stirrings of interest in the country. The G8 summit in St.-Petersburg in July provided a showcase for President Putin to present a newly-confident Russia playing a central role in global affairs, from energy security through inter... more

Dr. Margarita M. Balmaceda, Harvard University



Response: I would like to call our attention to some of the new dependencies that are being created in the post-Soviet area, i.e., above and beyond the ones inherited from the Soviet period. One of them has to do with Russia's increasing control (or attempt to control) the gas transit pipelines of its neighboring states; in 2006, Russia made new gains in Armenia and Georgia in this area. The cases of Belaru... more

UN Military in the Middle East? - 7/26/2006
European leaders have endorsed a call by the United Nations for a military force to quell the escala... more...

Iran and the Nuclear Question - 5/9/2006
Is it in Iran's interest to develop nuclear weapons? (5/8/2006) more...

Dubai Ports World Fiasco in Retrospect - 3/19/2006
Dubai Ports World, a Dubai-owned, American run port logistics firm, was recently forced to surrender... more...