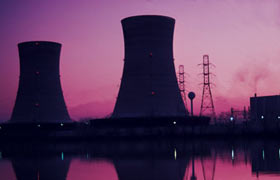 An Energy Policy for Europe?
By Guillaume Le Grand
When the European Coal and Steel Community (ECSC) was founded by France, West Germany, Luxembourg, Italy, Belgium and Netherlands to pool the steel and coal resources of its member-states, energy appeared to be the key to protecting peace and fostering unity in Europe.
Back in 1955, the six founders jointly declared in the Messina Declaration that their common aim was to "put more abundant energy at a cheaper price at the disposal of the European economies", and this was confirmed by the signing of the EURATOM Treaty in 1957. Half a century later, however, it seems that the common European energy strategy is faltering. "The days of cheap energy for Europe seem to be over" stated the Commission on January 10th 2007, launching the "An energy policy for Europe" report, which could well put an end to the policy objectives of Messina.
As a rule, energy policies are best understood when placed within their very specific context. First, the industrialised and developing countries' addiction to oil-related products has never been so clear. Rarefaction and price instability have never been so blatant. The increasing role of oil has focused both State and corporate interests in the highly unstable Far- and Middle East regions.
Secondly, potentially catastrophic levels of CO2 emissions and global warming have more recently become a concern, questioning the sustainability of the 20th century-inherited model (The European Union accounts for 14% to 15% of the world's energy consumption although it is home to only 6% of the population).
Fighting an addiction
Europe is "addicted to energy" and needs a "post-industrial revolution", the president of the European Commission said, "Like any addiction it is even worse when you depend on someone else for it", he added.
Jose Manuel Barroso and the commissioner of energy policy, Andris Piebalgs, claimed this was the biggest commitment any country or group of countries has ever made to combating climate change. Pielbalgs added that they hoped it would "help improve prospects for a future international agreement".
In this context, combined with a European energy-market which is often deemed to lack integration and competitiveness, Brussels is concerned at not to being able to feed this addiction and is now trying to draw up a common energy policy: "Europe needs to act now, together, to deliver sustainable, secure and competitive energy".
As was to be expected, the reaction of the Commission was to implement exactly the same principles that have led to the undeniable success in the telecommunications sector: separating the network infrastructures from the suppliers gave birth to a new market. From now on energy prices will be settled by the market and no longer by public administrations, leading to a progressive privatisation of Oil & Gas companies. The European Commission hopes that global risks will be rationalised and that prices in a flexible market will shortly start converging. In order to achieve such an ambitious goal, and change or keep the continent's dependency on oil under control, the new action plan proposes a binding target. If it is adopted by member states at a summit in March 2007, the plan would require them to reduce, by 2020, their greenhouse gas emissions by 20% relative to 1990 levels; to ensure 20% of the energy produces is renewable and that the primary consumption be reduced by 20%.
A lack of geopolitical sense?
The intentions of the European Commission might be virtuous and constructive, but it would seem it has not fully taken into account the kind of the challenge Europe is facing. The most striking fact about this proposal is the absence of any geopolitical considerations: neither a geo-strategic analysis of the major energy markets nor any comment upon their specific workings have been raised. Now the question is how to develop a relevant approach without conducting a strategic analysis of the major oil-exporting countries (Russia, Saudi Arabia, Iran, Algeria…)? The growing rivalries amongst tomorrow's largest consumers (US, EU, China, India) will have consequences for energy supplies, however not once does the Commission refer to any of its "rivals", continuing instead to ignore political struggles over energy.
Secondly, it seems a certain "ecological-correctness" has tainted this proposal, leaving other topics totally unexplored: only one paragraph is dedicated to nuclear energy, which might prove to be a worthwhile solution to both reducing global warming and curbing Europe's addiction to energy suppliers. Although the consequences of dioxide emissions on the climate have long been under-estimated, a rational cost/benefit assessment has not been fully made. An independent, thoroughly controlled, nuclear industry might well be a genuinely efficient and inexpensive alternative to traditional power plants. It would also enable better time-management and a smoother transition to newer forms of energy such as solar, geothermic, wind plants and to a potential new technology based on the fusion of hydrogen.
A structural reform only?
A clearly over-emphasised role for structural reforms also prevents Brussels from capturing the specificities of the global energy market. Indeed, not only its production, but also its transport, trade, consumption and potential hazards suggest this is a very particular product, which should be regarded in a more pragmatic way.
As opposed to water or telecommunications markets, heavy infrastructures and long-term investments are required to produce and transport energy, making it profitable over a certain period of time only. Since the privatisation of several US companies, there has been no improvement whatsoever of the networks; in fact, it has been to the contrary. Chronic under-investment in the networks has resulted in the increasing obsolescence of infrastructures that led to the huge blackout that hit the US in 2003. Have these potential structural problems been sufficiently taken in account by the Commission? One might be dubious, especially coming from a legislator whose reputation is to fully liberalise markets. It nevertheless remains urgent to open up the European energy market and provide a framework for competition. It would not only be in the interest of European consumers, but also those of the energy industry and the States, to undertake a broader analysis of how to implement incentives for the private sector to make long-term investments. If not, the Old continent will be setting itself up for failure and provoking a European energy security disaster within the next 20 years.
Furthermore, there are no signs of consensus by all EU countries that the Brussels' current project will be approved. France, for instance, so far silenced by its sluggish economic situation and the failure to ratify the constitutional Treaty in 2004, has never given up its sense of national independence, especially when it comes to energy.
Would France, who currently risks little in the face of a decline in CO2-emitting electricity supply, thanks to its low -mostly nuclear- energy prices and well-maintained national power network, agree to support a far riskier common European position? The converging prices of a European common policy would inevitably mean rocketing prices for the French consumers. Will France accept to developing renewable energies for up to 20% of its production, despite having 75% of its energy coming from the rationalised and non CO2-emitting nuclear technology?
Towards a sustainable market economy?
It is important to understand that the primary goal of the European Commission is to reduce carbon emissions. One should not judge too hastily whether this method would work or not as very few attempts have been made to this end. A general increase of the energy prices would foster a system where demand would decline; suppliers would then have to adapt to the newly deflated market by producing less and, most likely, cleaner energy.
We must bear in mind that a "clean" global economy currently remains nothing but a dream: the transport industry, for example, will always require cheap energy. The current globalisation process might however follow two very distinct paths: the first scenario would be that of abundant and cheap energy resources; the second describes long-term restricted, onerous, energy supplies. In the first case, as the Six put it in 1955, "more abundant energy at a cheaper price at the disposal of the European economies" would continue to foster physical globalisation, in the form of migration and outsourcing production. In the second scenario, the vast majority of outsourced activities would be taking place in the tertiary sector only, and the entire theory of production should be reviewed.
One of the particularities of the energy sector is that the size of the stakes compares only to the complexity of the strategies the decision-makers have to face. In order to achieve a sustainable solution to this challenge, it is imperative to build a new prospective that would include those geopolitical aspects. On the consumer side, China and the USA are already proactively involved in finding such a solution; whereas on the other side, Russia is willing to use its great energy resources as a political asset. It cannot be denied that this first attempt by Europe is visionary, in the sense that it is trying to change the rules of a polluting economy. It will help set up a platform which, hopefully will "help improve prospects for a future international agreement" as M. Piebalgs wishes.
____________________
One can only hope Europe builds a more comprehensive view of its role and manages to find a way out of its current self-restraining position. Europe cannot afford to ignore the geopolitical issues that will rise over energy disputes and needs to define more clearly, and strengthen its political discourse on energy.
As Europe is currently dramatically lacking in political leadership and is still striving to define itself in a globalised world, would this not be a perfect opportunity to get politics back to Brussels?
Comments in Chronological order (0 total comments)