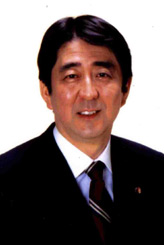 TOKYO -- Japanese Prime Minister Shinzo Abe may not have had his predecessor's flare for politics, or been able to match what came to be known as "Koizumi theater," but he sure knows how to make a dramatic exit.
Abe stunned most political observers, and many members of his own party, by abruptly announcing his intention to resign Wednesday, leaving the ruling Liberal Democratic Party (LDP) scrambling to find a successor. The next day he was checked into hospital suffering from exhaustion.
In many respects the decision to step down is not surprising -- Abe's party took a pummeling in Diet upper house elections in July, and his administration has been wracked by a series of financial scandals and verbal gaffes. A cabinet reshuffle last month, which saw the injection of several seasoned LDP operators, was supposed to steady the ship. Yet approval ratings for Abe's cabinet remained stuck below 30 percent and it was not long before another minister was embroiled in controversy.
But what has left many, understandably, scratching their heads is the timing. Abe faced pressure from within his own party to step down following the July meltdown, but insisted he had a mandate to continue his drive toward a "Beautiful Japan." Earlier this week Abe seemed steeled for a fierce battle with the main opposition over legislation to extend the Maritime Self Defense Forces' (MSDF) logistical and refueling support for U.S. vessels involved in antiterrorist operations in Afghanistan.The leader of the main opposition Democratic Party of Japan (DPJ), Ichiro Ozawa, said he intended to oppose any such legislation, and Abe cited Ozawa's refusal to meet with him to discuss the matter as one of the reasons he stepped down.
The idea that a prime minister would step down because his opponent wouldn't meet him is fanciful at best -- especially as Abe had so recently staked his premiership on passing a law for what he has described as an international commitment. Indeed there are already rumors circulating that the real reason Abe stepped down was to preempt revelations that he had himself been involved in some murky accounting.
But even if Abe's excuse about the meeting to discuss the MSDF mission is a stretch, the importance of the issue itself should be in no way diminished, especially as it raises serious questions about whether the DPJ is ready to lead the country should the LDP continue to falter.
The current law allowing the dispatch of the MSDF expires on Nov. 1, and although Japan's military commitment to U.S. operations is limited due to constitutional restrictions on the use of its military, the mission has, as did the nation's limited role in Iraq, allowed Japan to show that it is increasingly willing to step up and take greater responsibility for the maintenance of international peace and order, rather than simply engaging in the checkbook diplomacy it has been derided for in the past.
This is to be welcomed, and one might have expected Ozawa to support such a mission, especially as he has written himself of Japan becoming a 'normal country.'
With Abe gone, Ozawa will therefore now need to work hard to demonstrate that his opposition is principled and that he is willing to work toward some sort of compromise, or else risk looking opportunistic.
When he assumed the DPJ leadership last year, many expected Ozawa to be a tougher opponent for the LDP than his predecessor, Seiji Maehara, and in this he has certainly proven them right -- his guerrilla tactics have unsettled the LDP, though he has undoubtedly been assisted by the scandals and general aura of ineptitude that has swirled around the Abe administration.
But a concern that many also expressed when Ozawa took over was that his 'destroyer' approach was ill-suited to actual governance. Ozawa has already led three opposition parties, after having led the LDP itself before founding the breakaway Japan Renewal Party. He later took the helm of the New Frontier Party and then the Liberal Party, which itself was split by Ozawa's decision to take his followers out of it in 2000.
What Ozawa the destroyer now needs to do is show that he has the political vision that can unite the hodgepodge of ideas that is the DPJ, and mould it into a coherent force that is capable of ruling, not just opposing for opposing's sake.
When I spoke to Steven Reed, a professor of modern government at Tokyo's Chuo University, earlier this year, he pointed out that in recent years, electoral gains have typically gone to those running against the dominant LDP, including former Prime Minister Junichiro Koizumi himself who, despite being LDP leader, actually pitched himself as someone opposed to establishment forces within the party.
Reed is undoubtedly right that opposition forces have enjoyed a large degree of success.
But there will surely come a point when the electorate will decide that they want to vote for something, not just against something else.
The anti terrorism legislation is far from the only challenge facing Japan, but it is the most immediately pressing issue on the political agenda. Ozawa is right that the government needs to be held properly to account over this and other matters. But if he is to really to show the Japanese that the DPJ is a party worth voting for, he must avoid the temptation to use the MSDF mission as a political football.
Comments in Chronological order (0 total comments)