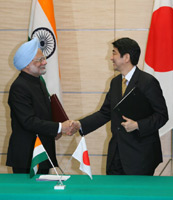 TOKYO -- Reports that India's nuclear deal with the United States is faltering have prompted a string of gloomy editorials in Indian newspapers. With the government of Indian Prime Minister Manmohan Singh apparently reluctant to face down opposition from its Communists allies, the deal is, as the Times of India lamented, "probably . . . in the deep freezer."
But 3,500 miles away in Tokyo, recently installed Japanese Prime Minister Yasuo Fukuda may not be feeling quite so gloomy, for the deal risked becoming an awkward sticking point in the blossoming relationship between nuclear state India and the avowedly anti-nuclear Japan.
"Japan would not be able to support a deal openly," says Takako Hirose, professor of South Asian politics at Senshu University in Tokyo. "The relationship with India is important, but so is domestic opposition."
Hiroshi Hirabayashi, president of the Japan-India Association and Japan's ambassador to India between 1998 and 2002, says relations between the two nations have been steadily improving since then-Prime Minister Yoshiro Mori became the first Japanese prime minister in 10 years to visit India when he did so in August 2000. "Japan's relations really started to warm up with the visit of Mr. Mori. Along with the visit of Mr Clinton [also in 2000], we saw a change of mood after the sanctions imposed after India's nuclear test [in 1998]."
Hirose agrees the thaw in U.S.-India relations influenced Japan's own relationship with India. "The U.S.-India relationship has improved, and this made Japan realize how important India was," she says. "It was through American eyes that things got better."
The relationship continued to prosper under former Prime Minister Junichiro Koizumi, including with the announcement of the "Eight-fold Initiative for Strengthening the Japan-India Global Partnership," and flourished under his successor, Shinzo Abe, with Singh and Abe announcing their desire for a "strategic and global partnership" during the former's visit to Tokyo in December last year. Abe followed this up with a visit to Delhi in August, calling for the two nations to become "perfect partners."
Much of the attention during the Abe-Singh meetings inevitably focused on the two countries' growing economic ties, and the two leaders issued a joint communique following their August meeting in which they pledged by 2010 to triple bilateral trade. Indeed Abe was accompanied on his visit by almost 200 business leaders, including Japan Business Federation Chairman Fujio Mitarai.
Bilateral trade between Japan and India hit $8.6 billion in 2006, jumping from $4 billion in 2002, while Japan's net flow of foreign direct investment to India rose from $125 million in 2003 to $515 million in 2006.
However, these numbers still lag those of India's other big trading partners, with bilateral trade between India and the United States, for example, hitting $32 billion in 2006.
Jayant Bhuyan, chief executive officer of India Brand Equity Foundation and deputy director general of the Confederation of Indian Industry, says one reason Japan fell behind was the differing approach it took compared with other investors. "Japanese investors are perhaps more cautious than their competitors," he says. "But Japanese industry has found its competitors doing business, and asked why they were succeeding while Japanese interests had slowed. Now they're getting involved with renewed vigor."
Bhuyan says India's economic reforms, initiated under Singh when he was finance minister, have "transformed" India's economy and, as it has developed its infrastructure, it has been attracting greater interest, including from Japan. "It's a trillion dollar economy now," he notes.
The emphasis on trade marks a shift in a relationship that has until now been seen through the prism of India's being the largest recipient of Japanese development assistance. But, as pointed out in a policy document released by the Japan Forum on International Relations last month, with India's economic growth now being driven by the private sector, and as the country has moved away from its dependence on development assistance, the Japanese government will increasingly have to shift its policies toward promoting "opportunities for Japanese corporations to expand their operations into India."
However, the changes in the Japan-India relationship go deeper than just growing trade ties.
"There are the people that talk about the economic merits [of closer ties]," Hirabayashi says. "But the true value lies in our strategic relationship."
During his visit to Delhi, Abe discussed his vision of an "arc of freedom and prosperity" consisting of Japan, Australia, India, and the United States. These discussions followed talks on a quadrilateral strategic partnership that took place in May on the sidelines of an Association of Southeast Asian Nations Regional Forum meeting in Manila, where senior officials from Japan, Australia, India and the United States met for the first time for "exploratory" talks. In September, the four nations plus Singapore conducted the "Malabar 07-2" naval exercises in the Bay of Bengal -- the largest such exercise ever coordinated by the Indian navy -- in which two U.S. aircraft carriers participated.
Hirabayahshi believes such moves are, in part, a response to the rise of China. "China is not a threat, but if we look at the remarkable strength of China, that causes some concern to all of us," he says. "And Chinese intentions are not clear, including to India."
He said he expects the warm Japan-India ties to continue under Fukuda, pointing to Fukuda's vice-chairmanship of the Japan-India Parliamentary Group and his emphasis on building relations with Japan's Asian neighbors.
Madhav Nalapat, UNESCO Peace Chair and professor of geopolitics at the Manipal Academy of Higher Education, believes this could herald something with wider implications for the region.
"I think it's inevitable there will be an Asian NATO," he says. "Democracy is a great word, but it needs teeth. An Asian NATO would add those teeth. It wouldn't be to create war, but to avoid war."
He admits there would be challenges to creating such a body. "The first obstacle is the different standards the United States uses with Asia than it does with Europe," he says. "For example, the conditions on India's nuclear deal are conditions it would never impose on Britain."
China's response to talk of a such an Asian partnership, and to the fact that it was notably omitted from Abe's vision of an "arc of freedom" is still unclear, though it is said to have pressed Delhi not to join in the talks with Japan, Australia and the United States that took place in Manila.
But Professor Mohammed Badrul Alam of Jamia Millia Islamia University in Delhi believes China won't push back too hard.
"I think there can be a peaceful coexistence because China has carved out its own niche. I don't think China will push the envelope too far," he says.
And he also believes the growing strategic ties between Japan and India are more about better cooperation in certain fields than a formal regional alliance, at least in the near term. "I don't see something like [an Asian NATO], at least for now," he says. "There may be some defense exercises and join maritime activities, but I don't think this will transform into something like the Atlantic Treaty in the next 10 or 15 years."
Jason Miks is a Tokyo-based writer and senior editor with the Center for International Relations.
Comments in Chronological order (0 total comments)