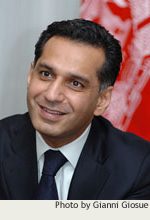 By HE Ambassador Haron Amin
In a post-9/11 world, no one believed that reversing two-and-half decades of war in Afghanistan would be an easy task. Yet, six years later, with thousands of troops deployed from 38 nations and billions of dollars poured in to improve the overall security and socio-economic situation, people around the world were unpleasantly reminded of this when four reports (Afghanistan Study Group, Atlantic Council, National Defense University and Oxfam International) offered very bleak assessments on the current status. Those reports serve as stark warnings of how a failure in Afghanistan could potentially enable religious extremists to wage their war on a global scale.
It is imperative that the concerns above should compel us – we the Afghans and our international partners – to revise our strategies. Hence, they are recommendations at best, and currently under scrutiny by all stakeholders. But equally important is the understanding that we and our benefactors are also responsible for significant accomplishments in numerous sectors including education, health, telecommunications, and rural development. In fact, it was only six years ago that we took on the challenge of political, social and economic development simultaneously, a task which under normal circumstances takes decades if not centuries. And it is common knowledge that to build takes longer than to destroy.
Sadly, while our TV screens only show endless footage of suicide bombings, narcotics and poverty in Afghanistan, we miss out on a wealth of worthy news which goes unreported. There are now millions of Afghan stories that serve as testimony to the rapid developments taking place throughout the country, changes not so long ago unfathomable. I can personally attest that each Afghan upon waking up only dreams of a better tomorrow. At times, I am humbled by my peoples' continued resilience and hope for a brighter future, a people who for so long were plunged into a war they had neither caused, nor could help stop. A recent survey by the Asia Foundation indicates that more than 70 percent of the population is optimistic about the future. Another puts 70 percent of the people to be just under 20 and eager to realize their peaceful goals. These alone are news enough to generate rays of hope even in quarters where pessimism prevails.
At the London Conference in January 2006, Afghanistan was labeled "a success story." Since then the security climate has drastically changed as the Taliban and foreign terrorists have expanded their activities. Similarly, the international community and Afghanistan failed to adopt a feasible strategy for curbing narcotics. Too many promises and too little aid continue to disillusion our people. And finally, despite significant improvements, our institutions are still unable to meet peoples' expectations. Today, we find ourselves being labeled a "failed state."
In fact it was also at the London Conference that the Afghan Government and the international community signed the historic "Afghanistan Compact," agreeing on a set of benchmarks promoting development, security, governance, the rule of law and human rights. Since then, we have also placed reinvigorated efforts into developing the Afghan National Development Strategy (ANDS), which will provide guidance on developmental matters. Emphasizing ownership, we have prepared sector-specific strategies while also estimating the investment need in each area in preparation for the upcoming Donors' Conference in June in Paris.
Since insecurity, narcotics, slow development and weak institutions account for the 'failed state' scenario, I hope they will be adequately addressed.
The Soviet invasion claimed 1.5 million lives, wreaked havoc on all existing infrastructure, exiled or eliminated almost all the educated elite, uprooted institutions which began in the 1880s and cost us hundreds of billions of dollars. A major consequence of the invasion was how it fixated the Pakistani military on actively promoting a subordinate regime across the border, first by fueling factional fighting and later by the Taliban takeover. Moreover, since 9/11, that policy continues in the form of proliferation of religious madrassas and Taliban sanctuaries on the other side of the border. Consequently, the war on terror – despite an increase in the level of international troops – will not be winnable, unless the situation in Pakistan is fully addressed.
The alternative livelihood strategy to substitute narcotics must not be suppression-driven, but rather a long-term policy integrating agricultural and rural development while focusing on job creation. So far, only a fraction of foreign aid has gone for this purpose.
Aid to Afghanistan as compared to other post-conflict situations has been very little. For instance, per capita expenditure by the donor community in Bosnia was 12 times more and in East Timor 4 times more than that dispensed in Afghanistan. Hence, much more aid and therefore aid coordination are needed now that there is capacity for absorption as well as sector-by-sector apportionment in the ANDS.
Finally, institution-building, legal and judicial reforms require time, patience and investment. While the general administration and state building reforms are underway and being accelerated, it should be noted that state institutions existed in name only just a few years ago.
Let me say that we have no delusions about the problems at hand. However, we have a problem when the challenges are taken out of context. Even worse is when our achievements are completely overlooked. While we are far from failing yet, the only guarantee for achieving a failed state is to doubt our desire and resolve for change. We are determined to overcome the challenges in building a robust state, a free polity and a thriving economy. No hindrance along the way or pessimism in whatever form will derail us from the commitments we have made to our people and from the membership we have declared among the community of nations. However, what concerns us greatly is a faltering coalition with potential far-reaching consequences. Indeed in this struggle, no enemy – however weak – can harm us as much as the weakening of our partners' resolve to stay the course. Let me end with a quote from Roy Gutman's book entitled, "How We Missed the Story," just recently published. "In the post-Cold War era, local conflicts have shown great potential for disturbing world order. Before 9/11, three administrations…started from the premise that after the collapse of the Soviet empire, the United States could withdraw from parts of the world where it had no obvious material or strategic interest…In this new world, the gravest threats to American security and international stability may come from places that were on the periphery of superpower competition…Afghanistan was the venue for the bloodiest and longest battle of the Cold War, as well as the place where Soviet military power went down to defeat, and it became the bridge to a more dangerous world."
We have come very far from the neglected, post-Soviet days and staying committed will not be as costly as abandoning Afghanistan once more.
HE Haron Amin is Afghan Ambassador to Japan and non-resident Ambassador to the Kingdom of Thailand, the Republic of the Philippines and the Republic of Singapore.
Comments in Chronological order (1 total comments)