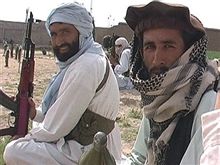 By M. ASHRAF HAIDARI
(originally published in Middle East Times): July 03, 2008
Present and past peace negotiations between Pakistan and the Taliban in the country's Federally Administered Tribal Areas have coincided with increased cross-border terrorist attacks in Afghanistan. For example, terrorist attacks have risen by more than 40 percent in eastern Afghanistan within the first five months of 2008 compared to the same period last year. At the same time, the number of civilian deaths caused by cross-border terrorism rose to 638 this year, 62 percent more than the same period last year. Additionally, this past June saw the highest number of foreign military casualties with 46 coalition troops having died in clashes against the Taliban. This shouldn't be much of a surprise, however. During similar Pakistan-Taliban peace negotiations in 2005 and 2006, Afghanistan saw a 300 percent increase in cross-border terrorist incidents. At the August 2007 Afghanistan-Pakistan Regional Peace Jirga Conference in Kabul, President Pervez Musharraf admitted that the problem existed.
The government and people of Afghanistan strongly support the re-establishment of a civilian government in Pakistan, and stand ready to collaborate closely with the new regime to address common security threats to the two nations. However, Pakistan needs to craft an approach to their northwestern border that balances their internal security needs with their regional and international commitments to Afghanistan's stability. Peace in Pakistan simply cannot come at the expense of security in Afghanistan, both for international soldiers and Afghan civilians. Talibanization of Pakistan is not a problem that can be resolved by shifting it elsewhere through previously failed peace deals with terrorists – who can and must be defeated where they originate and find easy sanctuary.
At the same time, NATO needs to bolster its military strength in the fight against cross-border terrorism in Afghanistan. It would not take much, in terms of additional troop deployments, to make a big difference in Afghanistan. Just about two additional brigades, or about 7,500 troops, would provide a great boost to efforts to defeat the Taliban. Ultimately, the key to securing Afghanistan will rest in the build-up of a professional Afghan army and police. To hasten the process, more military and police trainers are needed to build the Afghan national security forces to reach the targeted goals of 80,000 soldiers for the Afghan National Army (ANA), and 82,000 officers for the Afghan National Police by the end of 2009. Specifically, Afghanistan needs more than 70 Operational Mentoring and Liaison Teams – each comprising 16-20 men – to train ANA units. The country also requires 2,300 police trainers, including force protection, to implement the district police development program currently underway.
Moreover, the Taliban and al-Qaida are keenly aware of the vulnerable human environment in Afghanistan, and will lose no time in banking on the destitution and desperation of the Afghan people to destabilize the country. The recent intensifying conflicts and an expanding drought have internally displaced more than 100,000 people across Afghanistan. The skyrocketing food prices and the large scale refugee repatriation from neighboring countries have further complicated the humanitarian crisis in Afghanistan. Already the fifth least developed country in the world, Afghanistan is fast reaching the breaking point and can no longer endure the increasing pressures of multiple humanitarian challenges facing its people.
The international community should urgently and generously respond to the emergency aid appeals made by the Afghan government and the United Nations in order to prevent an impending humanitarian catastrophe in Afghanistan. Failure to do so will only strengthen the Taliban and weaken the trust of Afghans in democracy and their support as a strategic asset in the fight against terrorism.
Failure in Afghanistan is no longer an option, however, and peace can hardly take hold in Pakistan without stability in Afghanistan. Nor can global security be ensured without consolidation of Afghanistan's democratic achievements over the past seven years. It is, therefore, in the best interest of all stakeholders to commit firmly to helping secure and rebuild Afghanistan.
M. Ashraf Haidari is the political counselor of the Embassy of Afghanistan in Washington D.C. His e-mail is haidari@embassyofafghanistan.org
Comments in Chronological order (1 total comments)
According to my point of view these all the resettlements requests made by Afghanistan Government must be outfilled because the peace and life settlement in Afghanistan can make the complete territory safe and sound.The territory i definitely mean to say that the international national security of Afghanistan and as well as Pakistan.
as a Pakistani and as a student i may also add that we even have a great respect for our Afghan brothers and sisters and moreover we want a peaceful resolution for this extreme and quite sensitive international affair. U.N.
must deliberately enroll itself for making amendments and making this region sound and peaceful.
we even still hope a lot from U.N. to have an impactive effect over this resolution.