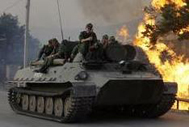 By Elizabeth Zolotukhina
Although Russian-American bilateral cooperative threat reduction programs continue, the war in Georgia has disrupted U.S.-led efforts to strengthen barriers against the transit of dangerous nuclear materials through the South Caucasus. This development is especially worrisome given that the region has experienced some of the most serious proliferation scares since the Cold War. The U.S. effort to curb nuclear smuggling is likely to experience setbacks given Moscow's decreased interest in cooperating with Washington.
Georgia has long been a priority region for U.S. nonproliferation programs aimed at curbing illicit trafficking of biological, chemical, and especially nuclear materials through the South Caucasus to both countries of proliferation concern and non-state actors. Since the USSR's disintegration, international monitoring bodies, such as the International Atomic Energy Agency (IAEA) and local authorities have detected and interdicted many attempts to smuggle illicit radioactive materials through the South Caucasus and sell them on the black market.
The Georgian government has attempted to enhance the safety and security of the nuclear materials under its control, but, prior to the recent war, the anarchic conditions, weak law enforcement, and porous borders in both Abkhazia and South Ossetia have permitted widespread smuggling with neighboring Russian regions as well as into Georgia. This condition has facilitated trafficking in nuclear materials as well as more conventional forms of contraband such as; narcotics, counterfeit currency, and young women. Georgia's pivotal location at the crossroads between Europe, Russia, Asia, and the Middle East has raised concerns that transnational trafficking networks could move nuclear materials from Russia through Georgia to international terrorist groups.
During the 1990s, Georgia suffered a series of worrisome incidents involving the discovery of scattered, low-level radioactive materials "orphaned" after the USSR's collapse. Many of the country's scientific, medical, industrial, and other facilities contain radiological sources such as cesium-137 and strontium-90. With the assistance of IAEA monitors and funding from the U.S. government, Georgian authorities have recovered hundreds of such radioactive sources in abandoned factories, waste depositories, and even private homes. These radioactive materials pose intrinsic health hazards and can be used by terrorists to fashion highly disruptive improvised explosive devices which spew radioactive elements upon detonation.
Although Georgia lacks a full-scale nuclear power plant, two nuclear research institutes exist on its territory. The Institute of Physics, located in Tbilisi, closed in 1990. The second, the I. N. Vekua Institute of Physics and Technology, has become an object of considerable nonproliferation concern because it is located in Sukhumi, the capital of Abkhazia, which has been a hotbed of regional smuggling and other lawless activity. According to some sources, up to two kilograms of highly enriched uranium (HEU) disappeared from that Institute sometime in the early 1990s during the civil war in that breakaway region. The institute's former director, Guram Bokuchava, maintains that Georgian authorities no longer know the status of the facility's nuclear materials. Mr. Bokuchava asserts that when inspectors from the International Atomic Energy Agency traveled to Sukhumi in 2002 to examine the uranium stored at the institute, Abkhaz authorities did not allow them to visit the storage site.
In April 1998, the United States and other countries conducted Operation Auburn Endeavor to avert a similar disaster at another Georgian research reactor located near Tbilisi. Following years of unsuccessful negotiations with Moscow to permit the repatriation of the Soviet-origin uranium fuel located at the closed IRT-M research reactor in Mtskheta, American officials eventually funded an operation to transfer the nuclear material to a nuclear reprocessing plant at Dounreay, Scotland.
In June 2003, Georgian authorities apprehended Garik Dadayan, an Armenian national, in the border town of Sadakhlo for attempting to smuggle 170 grams of weapons-grade HEU across Georgia's borders with Armenia and Azerbaijan. Smuggling had become rampant in the region after relations between Armenia and Azerbaijan deteriorated following their war over the disputed region of Nagorno-Karabakh. Dadayan told investigators that he had acquired the material from intermediaries of Russian and other nationalities in Vladikavkaz, in the Russian republic of North Ossetia. Georgian authorities concluded that the HEU originated in Novosibirsk, the location of a major Soviet and now Russian nuclear complex.
In 2006, Oleg Khintsagov, a Russian smuggler from North Ossetia, unsuccessfully attempted to sell 100 grams of 90 percent highly enriched uranium in Georgia. He was arrested on February 1, 2006, in a complex multinational sting operation that eventually involved the CIA, the FBI, and the U.S. Department of Energy. Khintsagov and his accomplices claimed to have access to several more kilograms of diverted HEU, which they apparently obtained with the help of Russian middlemen peddling nuclear material diverted from the country's massive nuclear complex.
These incidents—along with other, less serious nuclear trafficking cases in the region—highlight the vulnerability of the South Caucasus, especially Georgia, to the smuggling of nuclear materials. The U.S. government has undertaken multiple initiatives to reduce the smuggling of nuclear material into and through the republic, but the Georgia War has disrupted some of the most important initiatives.
Since 1998, the U.S. Department of Energy has provided radiation detection equipment and training to former Soviet republics, including Georgia. The department plans to establish radiation detection systems at approximately 450 land, air, and sea transportation points in the former Soviet Union, Eastern Europe, and the Mediterranean by the end of Fiscal Year 2013. The U.S. Department of State Export Control and Related Border Security Program has also provided radiation detection equipment and other counter-smuggling support to 30 countries, mainly in the former Soviet Union and Eastern Europe. The U.S. Department of Defense has supplied a range of training and equipment related to border security and law enforcement to Georgia and other former Soviet republics. One project, for instance, has equipped the Georgian Coast Guard and Navy with more effective technologies for combating maritime smuggling on the Black Sea.
In February 2007, after the Khintsagov case revealed gaps in Georgia's defenses against nuclear smuggling, the United States and Georgia signed a major bilateral agreement that provided for additional U.S. equipment and training for Georgian authorities engaged in countering nuclear trafficking. Under the accord, the United States agreed to strengthen Georgia's Nuclear Regulatory Agency and its border patrol forces. American officials also committed to assisting their Georgian counterparts in analyzing any intercepted nuclear materials. Other countries have provided financing and other support for some of these projects, which are part of the U.S. Nuclear Smuggling Outreach Initiative (NSOI).
Through the NSOI, the United States is working with Afghanistan, Armenia, Georgia, Kazakhstan, the Kyrgyz Republic, Ukraine, and Tajikistan to enhance these countries' ability to avert, identify, and react to nuclear smuggling incidents. In cooperation with the host government a NSOI team conducts an assessment to develop a joint action plan to counter nuclear smuggling better. The NSOI, which is coordinated by the U.S. Department of State, then solicits American and other international assistance for projects the host country cannot complete on its own.
At the time of the Georgia War, a Department of Energy team was in the process of installing new U.S. radiation detection equipment at major transportation nodes such as border crossings and air and sea ports. On August 9, however, the department withdrew the Americans working on the project in Georgia. When the inspectors returned to Georgia in October, they found that Russian bombs had damaged several of the sophisticated radiation detectors, some so severely that they have to be replaced rather than repaired.
Another casualty of the August 2008 conflict was the U.S.-Russia Agreement for Peaceful Nuclear Cooperation (known as a "123 Agreement") which was signed by President Bush and then Russian President Vladimir Putin on May 6, 2008 following years of negotiations. The accord would have established the essential legal basis for American and Russian companies to negotiate specific nuclear deals directly among themselves, including joint ventures, without requiring further government consent. Specifically, managers at the Russian Nuclear Energy Agency (ROSATOM) have eagerly sought the 123 Agreement, which would facilitate their efforts to expand Russia's role as a provider of international nuclear fuel services. For example, under the accord, the Russian government company Techsnabexport (TENEX) would be able to enrich uranium—whether produced within Russia or purchased from other countries—and ship the resulting fuel to U.S. nuclear power plants directly. However, following Moscow's intervention in Georgia, the Bush administration announced that, "in view of recent actions by Russia" , it was withdrawing the agreement from Congressional consideration. While Congress was very unlikely to have approved the deal had it not been rescinded, the measure was the most meaningful rebuke the United States has made over Russia's military intervention in Georgia. Nevertheless, in view of the importance of Russian cooperation for nonproliferation and other long-term American national security interests, the administration aims to balance the defense of Georgia's sovereignty and Tbilisi's symbolic role as a nascent democracy with its efforts to chastise Moscow.
Despite Russian President Dmitry Medvedev's warning that Washington might need to disown the current Georgian government if it sought further security cooperation from Moscow following the war, according to some analysts, Russia remains a willing partner despite recent tensions. Since much of the trafficked material appears to originate from Russian nuclear facilities and involve at least the passive collaboration of Russian nuclear personnel, improving counter-smuggling operations in the South Caucasus will require considerable Russian assistance. However, other experts question whether Russian officials are willing and/or able to effectively counter proliferation.
A closer examination of Moscow's reaction to the above-mentioned Khintsagov incident reveals a disturbingly cavalier attitude regarding a nearly successful case of nuclear smuggling along Russia's frontiers despite a troubled history. Limited publicly available data support fears that the risk of nuclear theft is highest in Russia. A worrisome precedent has already been set – "the first case involving the theft or diversion of direct-use material [occurred] in Russia in 1992" – nor was this a singular event. In fact, the U.S. National Intelligence Council's most recent assessment concluded that "it is likely that undetected smuggling has occurred [from Russian nuclear facilities], and we are concerned about the total amount of material that could have been diverted over the last 15 years." Subsequent nongovernmental studies, though noting progress, cite disturbingly lax security practices and other vulnerabilities. Moreover, according to Matthew Bunn, Senior Research Associate with the Project on Managing the Atom at Harvard University, "terrorists are actively seeking nuclear weapons and the materials to make them," rendering Moscow's inability to assess and counter the threat of nuclear proliferation at home increasingly worrisome.
Perhaps the most widely publicized of the recent attempted trafficking incidents in the Caucasus occurred on January 31, 2006. Early that morning, an undercover Georgian police officer arrested a man who had produced 100 grams of weapons-grade enriched uranium, wrapped in a plastic sandwich bag, from his coat pocket in hopes of making a handsome profit. It is unclear when or how the suspect, Oleg Khintsagov, began trading in nuclear materials because he refused to divulge his suppliers' names during subsequent questioning, allowing only that he had purchased material which he believed to be radioactive from "Rashid" in Novosibirsk, Siberia the site of a nuclear facility from which material has been stolen in the past. Khintsagov was more than an incompetent small-time criminal; during subsequent interrogations he reportedly "showed an unexpected knowledge of nuclear matters, and his passport reveals travel to Syria, Saddam Hussein's Iraq, and the United Arab Emirates." Khintsagov is also on record bragging to his associates that he could obtain at least two kilograms of HEU – almost enough for a nuclear bomb.
Early in the investigation, Georgian authorities informed the Russian Embassy of Khintsagov's arrest, offering Moscow routine consular access to the suspect. Russian officials did not respond, nor did they search Khintsagov's house for additional HEU. Even more revealingly, although the Federal Security Service (FSB) determined that the seized HEU was 89.38 percent enriched, in a letter to Georgian authorities, the security service claimed that "because the material had been produced more than 10 years ago, its origins were impossible to determine." Physicists have cast doubt on the veracity of this claim. Moreover, noted Russia expert Pavel Felgenhauer went further, referring to the letter as "an otpiska – a meaningless, vacuous response." Felgenhauer's conclusion that Russian nuclear stockpiles are much less secure than the world would like to believe is echoed by William Potter, Director of the Center for Nonproliferation Studies at the Monterey Institute of International Studies. Potter interprets the unconcern expressed in the FSB's letter as reflecting continued Russian refusal "even to contemplate that terrorists could get their hands on enough HEU to build an atom bomb." Instead, Potter believes Russian officials choose to maintain that "it is beyond the capability of a non-state actor to make a fissionable device." Available evidence seems to corroborate Potter's view. Despite ROSATOM director Alexander Rumyantsev's concession following the September 2004 terrorist attacks in Beslan, that rogue elements could illicitly procure fissile materials, including highly enriched uranium and plutonium, as well as related technologies ; as late as February 2007, representatives at several Russian civilian nuclear research laboratories expressed concern about their sites' abilities to sustain U.S.-funded security upgrades. Former President Vladimir Putin's military modernization plans continually allocated insufficient funds to nuclear security , fueling such anxieties among Russian nuclear experts and members of the U.S. intelligence community. Following Dmitry Medvedev's May 2008 election to the Russian presidency, the State Department voiced optimism regarding the continuation of previously agreed-upon nonproliferation commitments. Since then, however, there has been no direct evidence that Medvedev has diverted from his predecessor's policies on this issue.
Elizabeth Zolotukhina is Head Editor of the Case Studies Working Group with the Project on National Security Reform. Ms. Zolotukhina received her undergraduate degree from the University of Pittsburgh. Her research interests include nonproliferation, arms control, and Russia.

Comments in Chronological order (0 total comments)