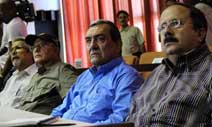 By Dr. Christos Kyrou
Merely a week ago I was discussing with a friend over lunch reasons why Colombia has not yet resolved the conflict between the government and FARC-EP. I was expressing my frustration for we might be entering a phase where the FARC-EP would not be able to deliver peace anymore and that it would break-up into dozens of independent entities which would only fight to survive by gradually entering the world of drug cartels and criminality, not as guerrillas anymore but purely as part of the organized crime. It would be disastrous not only for Colombia but for the whole continent.
Then all of the sudden the great news arrived, that the government and the FARC-EP were considering negotiations. Within hours the wire had it that both parties confirmed and just yesterday they made their first official declaration to their commitment to negotiate, to take place in Cuba in a month. I found myself literally jumping off my seat for I have friends in Colombia. They alone are the reason why I've studied about Columbia so thoroughly and why I exposed myself in supporting these negotiations against the powerful wall that Washington places on you when you try to steer waves "against official policy."
I must say that a few days later my enthusiasm has not dissipated, in fact I am more optimistic than any time before and this is because one rarely sees the equivalent of a "mutual peace lock" in the long history of insurgency-related peace negotiations: anything else and both parties would be committing suicide taking with them far more people, institutions, and cash than Colombia's alone. This article is a list of reasons for my strong optimism together with a few observations about strategy and traps to avoid.
Just as public opinion has grown to expect a final shootout in Colombia between the government and the FARC-EP, Colombians surprised the world again with a message of hope. They chose to give negotiations a try and bring an end to this conflict once and for all. From an optimistic point of view, this alone is already a declaration of peace and an indication that the country remains united even after more than half a century of civil war.
Before the fireworks landed… there were already a number of articles and opinions published out there about a conflict most folks had decided to burry from scholarship for more than a decade. I am not surprised that most of these opinions derive from general peace and conflict theory and have very little to do with both the peculiarities of negotiating with insurgent groups and with the unique realities on the ground in Colombia itself. The war in Colombia is not like the war between Israelis and Palestinians, or Basques and Spaniards, of Irish against British, or Tamil versus the Sinhalese. Neither is this a conflict between Moslems and Jews or Catholics and Protestands, or Budhist against Hindus. This is a dinosaur classic Cold War type civil war, one repeated before so many times that the script is available for anyone to follow, step by step.
Colombia is not a state-against-state war either, but a war between brothers and sisters and these negotiations have been played successfully in almost every other Cold War situation except from this one. The conditions are right, and the need for a solution is paramount.
Having this in mind, the greatest disparity between the negotiating parties is not one of ethnicity or religion or of language as much as of income, culture, and general life experience among the negotiating parties. They have been living too far from each other for too long. The FARC-EP leadership has been isolated and spent a great deal of their time in the jungle, on the run on a strict guerrilla regiment. Most of the top members of the High Command that enjoyed a great deal of freedom of movement have been killed or assassinated of died of natural causes. The FARC –EP leadership at the negotiating table will be closer to their rural environment and further from the world on the other side of the table. The government is represented by folks who are highly educated, well off, who have grown up and are accustomed to the modern ways of life, mostly urban in origin and residence. Their power derives mostly from people such as themselves, urban folks living away from the warzone where the FARC-EP' home is located. This set of dissonance that divides the two groups of leaders at the negotiating table also coincides with the ones that divide their constituencies. In a way this is not simply Government negotiating with the FARC-EP but two opposing faces of Colombia negotiating with each other; it is Colombia starring at herself. And in a way this is Colombia claiming herself back. This problem of cultures will be the greatest obstacle to overcome and it will determine their degree of trust, sense of camaraderie and common purpose, and shared commitment with each other. This is where good mediation and facilitation will play a critical role and Cuba seems to me a good environment to inspire that necessary link.
Another dimension common to every conflict is economics. The finances of this conflict are extremely complicated and there is a lot of space for spoilers to do their damage. Both, the US support to the government and for the FARC-EP the narco-trafficking, kidnappings and illegal gold mining are fundamentally connected to the "business as usual" survival of each of the parties respectfully. Colombia has to envision itself surviving without American help – or at least not related to that war, and for their part, the commanders and members of FARC-EP have to envision themselves outside their familiar economics and closer to that of an urban or rural Colombia that to them does not yet exist.
Forces inside and outside the ranks of the negotiating teams are strongly involved in illegality and organized crime, enough to go all the way to make this effort fail once again. Most of these actors-spoilers, will outlive this conflict and they will always suggest an alternative to any challenges that the "new realities" will present to those currently involved. So focusing on the task at hand, ending the war, and avoiding the "noise" from the existent regime of crime in the country is a key strategy. Placing constructive mechanisms towards resolving the crime issue after the end of the war, is much more realistic. It will keep spoilers out of the way for the time being.
Spoilers may not be motivated by only economics but also by their own political investment to other solutions to the conflict including war. Former President Uribe has a strong following with his hard line against the FARC-EP and one way or another he should gradually become part of the solution instead of part of the problem. Experience from other similar processes has shown that leaders playing his role may grow into a decisive force over the course, and after the end of the negotiations. The same caution should apply to the FARC-EP ranks regarding commanders or people of influence who might be able to derail the negotiations by provoking the government. It would have been a real blessing if other groups including whatever active paramilitaries and the ELN were participants to these negotiations but they might as well have caused more damage than good at this stage. The example set by the government and FARC-EP today, and the various agreed future resolutions, and agreements over the future of combatants, political participation, reforms, etc, may open the door to ELN and paramilitary groups to both realize the effect of their marginalization and to exploit the benefits of the process as late beneficiaries. On the other hand these groups will most likely attract in their ranks every chunk of the FARC-EP and even government supporters who will be disappointed by the course, progress, and/or results of these negotiations. It is important that the negotiators keep this in mind throughout as they may become irrelevant if other groups continue the war outside those on the table.
The nature of this conflict makes its solution a necessity and time is against Colombia's best interest. As FARC begins to disintegrate in its respectful isolated blocks and even fronts, each will more or less adapt as an individual unit and independent from central command, developing its own logistics, resources, recruitment mechanisms etc. The Shining Path in Peru has demonstrated that it takes less than 100 fighters to reignite the war. Imagine this multiplied by a ten here… By declaring that he will participate regardless of the absence of a cease fire, and stay on the table until there is a solution, Timoshenko, in my opinion, is delivering a message here about the fate of his own influence. After this effort he or the Secretariat and the Central High Command may not be able to control any further centralized FARC-EP action. It is peace now or chaos for Colombia. Frankly it is a little miracle how long the FARC-EP has kept itself together. Yet there are already signs of such disintegration and it might already be too late, this being the worst case scenario for Colombia.
Recruitment sources of combatants for guerrillas and paramilitaries alike - prisons, underdeveloped or overexploited rural areas, social layers victims of economic disparity – remain powerful conflict generators. These have to be targeted by both sides and in partnership with each other. In that respect there is some substantial role for the FARC-EP to play. From a depository of those in despair FARC-EP can transition into to a political voice for change (see agrarian reform, corporate accountability, responsible governance over natural resources and the environment), after the war is over; either as a new political party or by attaching itself to already existent political forces. They have a thorough understanding of the Colombian countryside. This transformation will not be unique to Colombia. It has taken place in many other Latin American countries, in Europe, South Asia (Nepal and India) and also in Africa (Angola).
Everyone wants a piece of the glory from ending this war. And there is space for everyone today to claim some. The army fought the FARC-EP to the edge, the FARC–EP kept a guerrilla war long enough to break almost every record of survival against a state and even a superpower, the politicians managed to bring the country towards democracy and progress, the judges managed to maintain the integrity of the courts even in this narco-infested environment. Everyone has a reason to claim victory here, and everyone will lose that privilege if these negotiations fail. That responsibility falls also to external powers including the United States, Venezuela, the EU, and so on.
For some time now Latin America has been building all the resources needed to provide a safe ground for the parties in Colombia to negotiate. Brazil has also a vested interest in helping ending this conflict and could even sponsor some aspects of the transformation. Nicaragua and other countries in the region may provide much valuable experience from their own post-war transformation. Cuba, in a way, carrying in its politics a great deal of the Cold War's unresolved issues, can provide the FARC-EP with a space they may consider safe to them, politically and physically, to engage in trust-building with the Santos government.
Regarding negotiation strategy, the situation calls for the optimistic, inclusive approach of George Mitchells in Northern Ireland, beginning from agreed issues of principle and moving towards the center (policy), bypassing the hard temporarily to address first the easy, dovetailing, committing to future obligations, and so on. Some issues identical to those in Northern Ireland will most likely emerge such as the process of decommissioning. Regardless of its complexity this is a textbook negotiation and the parties are ready, willing, and capable to deliver.
The lack of a cease fire will tempt the parties to use violence as a parallel to negotiations strategy and most likely they will. It also questions whether the parties can commit to future agreements.
The FARC-EP will have to resist the temptation of throwing something "spectacular" five minutes after the beginning of talks only to make a point over the absence of truce (insurgent groups get very edgy in similar situations); and the government must avoid running any sweep-up operations beyond any previously known scale for the same reason. On the optimistic side the negotiations will not be held hostage to any rogue group that might stage an attack against one of the other side nor will the cease fire be broken due to the complexities on the ground that make the very cease fire an impossible task to monitor, as it has happened before. The parties can agree to the promise not to use force which may gradually grow into a genuine cease fire, which sounds more like what the Santos government has suggested. It may not sit as well with the FARC-EP unless they embrace it also as their own strategy.
Every conflict goes through stages and phases that distinguish one from another by events or dramatic structural changes. These "threshold" events in conflict are points of no-return and once crossed the consequences can be devastating locally and regionally. Today there is a FARC-EP at the table and a government that is confident about itself. If this opportunity is missed, within the next few months there may be five new drag-cartels and two or three new mini-farcs fighting it out to the last against a government trying to deal with too many fronts at the same time, unable to commit to any form of negotiations. One can only afford to be optimistic.
And there is every reason to remain optimistic. Yesterday's formal statements by the government and the FARC-EP that they both commit to negotiations consist already, at the highest level, their first successful declaration of Peace.
Comments in Chronological order (0 total comments)