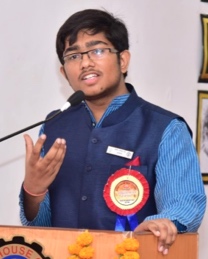 At the dawn of the year 2020, when India entered the gates of newer opportunities, nobody had the slightest clue of what would go down in history as a challenging yet eventful road, in which India would be faced with the bewilderment of impending crises, one after another. The challenges were destined to test India's resilience and patience to an extent like never before.
With the beginning of the new decade, India struggled on the economic front as the Indian economy entered into a slowdown, registering growth of a mere 4% in FY 2019-20.[1] Much of this slowdown was a cumulative effect of the demonetization and implementation of the GST (Goods and Services Tax). This further went in negative as India went into complete lockdown during March–April of 2020, posting a contraction of 7.3%.[2] As a follow-up effect, the lockdown resulted in the unemployment rate increasing from 5.27% in 2019 to 7.11% in 2020[3] when compared on a year-over-year basis. This was accompanied by declined growth of 9.6% in the industrial sector where construction contracted by 12.6%, followed by mining at 12.4%. The services sector too had a contraction of 8.8%, with trade and hospitality shrinking by 21.4%.[4] A lot of uncertain events in the global economy like Brexit, unstable oil prices, supply-side bottlenecks for critical industries like auto, etc. impacted the overall investor sentiment. Auto and construction especially faced demand shortages, leading to retrenchment.
Meanwhile, on January 30th, 2020, India reported its first COVID-19 virus case in Kerala, leading to 3.31 crores infected and 4.41 lakh deceased and counting in the two waves that followed. A country that spends less than 1.5% (before 2021–22 budget) of its union budget on health was faced with the enormous task of protecting 1.3 billion people from an unstoppable pandemic. Many Western media predictions stated that an impending breakdown of all services seemed inevitable. But all the prophecies were thrown away with the response that the government of India adopted proactively. The timely lockdown for 21 days and its further extensions helped India move from a net importer of PPE and N95 masks to a leading exporter today. India also supported its neighbours and friends in the international community with a supply of essential medicines as grants or aid. India's strong and resilient pharmaceutical sector contributed the much-needed supply of essential medicines at home and abroad, which helped India gain a lot of goodwill and appreciation. The widely debated lockdown in March and April 2020 laid a critical foundation for India's preparedness, helping it to develop critical infrastructure. This helped the government to steer the nation and glide safely out of catastrophe in the first wave, but the negligence on the part of states resulted in the devastation of the second wave.
However, the extent of the second wave was still relatively low in comparison to other affected countries like the US, which has a 198 per million death rate in comparison to 38 per million in India. India also developed its own home-grown Covaxin and the Serum Institute of India's Covishield (licensed by Oxford-AstraZeneca) firsthand, a feat that only a handful of countries have accomplished. Since then, two more vaccines have joined—Sputnik V (which will be manufactured by Dr. Reddy's Lab) and Zydus Cadila's ZyCov-D vaccine. There are reports that more vaccines are in the approval stage. Since the beginning of vaccination in January 2021, India is one of the fastest countries to vaccinate its citizens, with 71 crore doses administered so far and continuing.
India also faced a deadly skirmish witnessed after four decades at the LAC (Line of Actual Control) on multiple locations stretching from Depsang Plains, Gogra-Hot Springs, Galwan, and Pangong Tso. On the June 15, 2020, a skirmish on PP14 led to the death of Colonel Santosh Babu (posthumously MVC) along with 19 of his brave soldiers. This test of relations was significant as India responded in kind with mirror deployment and aggressive posturing. Though the disengagement on borders is an ongoing issue, the strategic response both at the tactical level on the ground and the high tables of foreign affairs severely dented China's invincible image. In a follow-up response, India not only banned Chinese applications and companies from participating in government projects, but also rallied support against China over its growing assertiveness in many international forums. India's willingness and shared determination to engage itself in the Indo-Pacific through QUAD and other forums has resulted in sending a task force to the South China Sea, which reflects a change in policy to challenge China on its turf.
These are some of the many challenges that India faced, but its indomitable spirit, confidence, and will to fight prevailed. Despite aspersions over its abilities to handle situations, India's mature and proactive response towards the issues both at home and abroad is a paradigm shift from its inward-looking approach. India's active role in the issue of Afghanistan by engaging with its partners for a comprehensive and just solution of peace and stability is widely acknowledged, which of course irks Pakistan. India's active engagement is reflected by the Indian External Affairs Minister's visit to the US, where he made various stopovers in Europe and also engaged with Middle Eastern and Central Asian republics. This was followed by the visits to India of CIA Director, William J. Burns, MI6 Chief Richard Moore, and Russian NSA Nikolay Patrushev holding talks with the Indian NSA Ajit Doval in just a week's time. The involvement of Pakistan in the internal affairs of Afghanistan has increased security challenges for India. The Taliban's flip-flopping statements on Kashmir is a new dimension in which one has to look carefully.
With so many issues at the onset of a new decade, it is important to see how the world and India itself think about its challenges and opportunities. As for economic prowess, the outlook for India is very optimistic. Despite the challenges of the second wave, India registered a growth of 20.1% in Q1 of FY 2021–22. Government, as well as estimates from rating agencies like Morgan Stanley, pegs GDP growth at 10.5% for FY 2021–22.[5] If all goes well, a McKinsey paper predicts that India could be having the third-largest number of high-income households by 2030 behind China and the US. The paper predicts that India can contribute about 1.8 trillion USD as total consumption growth in the world.[6] This puts India into the top three economies in the world by 2030, a dream that India has chased since its 1991 post-liberalization. Multiple reports and predictions highlight the fact that concrete developments, bold policy decisions, higher economic integration by removing bottlenecks in supply, along with the Atmanirbhar Bharat Abhiyaan (Self-Reliant India campaign), a government investment of 29 lakh crores as an economic recovery package, have laid a strong foundation for Indian recovery and subsequent growth. With many policy decisions like the Gati Shakti Initiative where 100 lakh crores will be spent on infrastructure, the announcement of two dedicated defense corridors, 1.75 lakh crores of a disinvestment plan of government PSUs and assets, the National Infrastructure Pipeline, the railway overhaul, the Bharatmala and Sagarmala Projects and many more have been earmarked for the coming decade, which is surely a good mix for a host of opportunities and accomplishments in the near future. The increased spending on infrastructure will lure investment, increase employment, and boost India's industry and exports. The government's push for 'atmanirbharta' for defense is also a rightful and needed step to strengthen the indigenization of weapon systems. This will help in laying a strong foundation for defense infrastructure. The new defense procurement policy, FDI increase from 49–74% from the direct route, and production-linked incentives for MSMEs producing defense equipment are a good head start for long-term benefits for the defense sector. This will thereby reduce dependence on imports.
Health and education, the sector that suffers the most, will also see a renewed emphasis and approach from the government. We already saw an exponential rise in the health budget in the 2021–22 fiscal year along with the statement of intent by the government to improve the rural health sector with Pradhanmantri Atmanirbhar Swasth Bharat Yojana (PMANSBY). The action plan presented to fight future pandemics and health emergencies will surely diversify the health sector in both R&D and innovation. The National Education Policy (NEP) will also be a game-changer reform in the education sector, whose performance will determine the direction of atmanirbharta.
However, from the merry symphony resonating with the hymns of economic prosperity, much of India's image as the superpower next door will face geopolitical challenges posed by assertive China and the rise of radical Islamic terrorism in Afghanistan. Since 2020, China has changed three commanders of the Western Theater Command (WTC) of the PLA that looks over a 3,400 km border with India. Recently, China's Central Military Commission (CMC) promoted Lt. Gen. Wang Haijiang as four-star General and appointed him as the new commander of Western Theater Command. The reports say he has been handpicked by Xi Jinping. He is one of the youngest generals in the PLA and has been the commander of the Xinjiang and Tibetan military districts before. This change of three commanders in WTC within a year is a signal of something tenuous. This change of command happened after Xi's rabble-rousing visit to Tibet and some close border areas of Arunachal Pradesh. This change of command indicates that the commanders failed to deliver on the dictates of CMC's ambition over the Sino-Indian border. It is imperative for our security establishment to be prepared for any implications of Chinese surprises on the border. In another surprise event, China's outreach to Myanmar's junta led to the revival of the Kyaukphyu Special Economic Zone (KPSEZ) and a deep-sea port project that emerges as a challenge for Indian-built Sittwe Port given the geographical proximity between the two ports.[7] China's growing influence is a matter of concern given that the Malacca Dilemma of the Chinese gives many strategic edges to India. In the coming decade, India has to consider options beyond QUAD to effectively counter the 'string of pearls' for which maritime and security cooperation between ASEAN and East Asian countries is crucial to keeping China at bay. The participation of HAL in Malaysia's tender for 18 fighter jets, a line of credit to the Philippines for the BrahMos system, and talks with Vietnam on similar arrangements over BrahMos are some of the steps in this direction but expeditious efforts are required to expand Indian defense exports in the region, which will aptly calibrate our security equation with China.
One aspect that will underscore the attention of India for the decade is the maritime domain. While our policy remains focused on land boundaries, much of the security challenges have developed in the seas. India's naval power projection is very limiting, while China has been expanding its influence in this sphere. Today, the Chinese have two aircraft carriers and an army of 70 submarines in which 7 are SSBN and 12 are SSN. Along with this, they have more destroyers, frigates, corvettes, and seaplanes that give them the capability to operate in the Indian Ocean region without much resistance. The Indian Navy, in contrast, has one aircraft carrier, one SSBN, no SSN at the moment (as the lease of the INS Chakra–II is expiring), and 15 conventional submarines along with destroyers, frigates, corvettes, and seaplanes, which are not sufficient to deal with maritime challenges posed by China. The Indian Navy is formidable in its own right and turf, however, when compared with the Chinese PLA-N, its capacity to project India's influence and maritime dominance is limiting. At present, the Indian Navy has about 150 ships and submarines[8] while the PLA-N has 360 ships and submarines[9] and by the end of 2030 the gap between the two will increase. Hence, policymakers must realize the reality of this domain and identify areas where India can strengthen its maritime power.
One cannot deny the fact that containing China will be the cornerstone for India's diplomacy but the new developments in Afghanistan with the Taliban's takeover have complications that will draw much of the attention as this issue concerns national security. Though to call what happened on the August 15, 2021 as the end game of Afghanistan is too early to say. However, if things remain as they are, then the Taliban in Afghanistan will have consequences for India's security and interest in the region.
It is not only the North-South transport corridor that is pivotal for connectivity in Central Asia but the Taliban takeover has cast an implicative shadow over peace in Jammu and Kashmir. As the dust settles, the focus of the Taliban will shift towards Kashmir. The persistent involvement of ISI in the Taliban regime is proven by the fact that the Haqqanis have the major share of power. These puppets of ISI will now call the shots in the Taliban's regime. The diversion of these jihadists towards Kashmir will happen, for which the early signs have emerged. It is in the interest of India to engage with the Taliban while devising a comprehensive strategy to put consistent pressure on the Taliban. This can be achieved by either supporting the NRF or by engaging with key players like the US, Russia, Tajikistan, Turkmenistan, and Iran. These countries can help India keep a lid on the Taliban's emboldened progress that threatens India's security.
In the sphere of foreign policy, the growing confidence of India at the high tables of diplomacy is something that will grow further. As Chinese assertiveness in the geopolitical environment will challenge countries, India will be the only reliable partner and alternative. The revision of the UK's foreign policy which focuses more on the Indo-Pacific,[10] France's growing interest in IOR, and the revival of Free Trade Agreement negotiations with India by the EU[11] are a few of the early signs of what will be an eventful decade, where India will be at the center of geopolitical discourse. No major powers in global politics can circumvent India, as their interests converge with the holistic approach of India's foreign policy. In issues like climate change, cybersecurity, terrorism, artificial intelligence, space, freedom of navigation, international law, economy, and fair trade, the world has to engage with India, as in many of these issues it leads by example.
So, in conclusion, one can say that the road to 2030 is eventful, where India has to carefully craft its policy, both foreign and domestic. Defense and national security will have a paramount focus but has to also adjust to the changing realities. Fifth-generation hybrid warfare is a challenge that will confront India both at home and abroad. To fight this non-kinetic way of war waged by our adversaries, counter-information and narrative building is the way forward. This requires a consistent flow of rightful information so that the common populace is protected from these attempts. This requires government support and the support of think tanks, civil societies, and individuals from academia. We have to also understand the fact that one cannot be dependent on moral values and ethos when the adversary is at your gates. It is a game where only hardcore interests of the countries converge and this convergence leads to compromise and compromise leads to mutual benefit. It is on this principle that the world moves on and so should we if we have a hope and belief to succeed in the coming decade. As Franklin D. Roosevelt said, "We have always held to the hope, the belief, the conviction that there is a better life, a better world, beyond the horizon." Guided by our similar ethos, we all are hopeful that we will make an Atmanirbhar Bharat a reality and a way forward in 2030 and the 21st century.
Hrithik Singh (also known by the pen name Gaurav Rajmohan Narayan Singh), is a debater, writer, poet and blogger. He is the Vice President of the student-led NGO Embryonic Foundation in Lucknow, India. As a debater, he has taken part and been meritorious in many Formal Summits, Youth Parliaments and Model United Nations, including the prestigious National Youth Parliament organized by the Government of India. Along with this, he even participated in various events like Yuva-Sammelan of Vivekananda Youth Forum (organized by Ramkrishna Mission, Indore, 2018) and Vishwa Hindi Sammelan (Bhopal, 2015) organized in the field of Social Service and Hindi Literature. He continues to devote himself to his concept of nation building and frequently writes on the issues of international relations and economy. Currently, he has finished his undergraduate degree in Economics and an Advance Diploma in Functional Hindi and Journalism from Banaras Hindu University, Varanasi.
---
[1] Press Trust of India. (2021, January 29). India's GDP growth rate for 2019-20 revised downwards to 4% from 4.2%. Retrieved from https://www.business-standard.com/article/economy-policy/india-s-gdp-growth-rate-for-2019-20-revised-downwards-to-4-from-4-2-121012902037_1.html
[2] The Indian Express. (2021, May 31). India's GDP contracts 7.3% in FY 21. Retrieved from https://indianexpress.com/article/business/economy/india-q4-january-march-gdp-provisional-estimates-2020-21-fy21-gross-domestic-product-data-covid-19-surge-7338168/
[3] MoneyControl. (2021, May 28). India's unemployment rate in 2020 highest since 1991: Report. Retrieved from   https://www.moneycontrol.com/news/trends/indias-unemployment-rate-in-2020-highest-since-1991-report-6953491.html
[4] PRS Legislative Research. (2021). Economic Survey 2020-21. Retrieved from https://prsindia.org/policy/report-summaries/economic-survey-2020-21
[5] Business Standard. (2021, September 1). Morgan Stanley maintains India GDP growth estimate of 10.5% for FY22. Retrieved from https://www.business-standard.com/article/economy-policy/morgan-stanley-maintains-india-gdp-growth-estimate-of-10-5-for-fy22-121090100531_1.html
[6] The Economic Times. (2021, September 10).  India to have third-largest number of high income households by 2030: McKinsey Report. Retrieved from https://economictimes.indiatimes.com/news/economy/indicators/india-to-have-third-largest-number-of-high-income-households-by-2030-mckinsey-report/articleshow/86089869.cms
[7] The Economic Times. (2021, August 9). Myanmar junta expedites work on China funded Kyaukphyu port. Retrieved from https://economictimes.indiatimes.com/news/international/world-news/myanmar-junta-expedites-work-on-china-funded-kyaukphyu-port/articleshow/85167272.cms?utm_source=contentofinterest&utm_medium=text&utm_campaign=cppst
[8] Government of India Department of Defense. (n.d.). FAQ. Retrieved from https://www.mod.gov.in/dod/faq
[9] The Diplomat. (2021, April 7). Yes, China has the world's largest navy. That matters less than you might think. Retrieved from https://thediplomat.com/2021/04/yes-china-has-the-worlds-largest-navy-that-matters-less-than-you-might-think/
[10] The Hindu. (2021, March 16). U.K. turns to Indo-Pacific in post-Brexit foreign policy. Retrieved from https://www.thehindu.com/news/international/uk-turns-to-indo-pacific-in-post-brexit-foreign-policy/article34086252.ece
[11] Financial Express. (2021, June 14). India-European Union FTA: Talks to restart soon on realistic note. Retrieved from https://www.financialexpress.com/economy/india-european-union-fta-talks-to-restart-soon-on-realistic-note/2270677/
Comments in Chronological order (0 total comments)