By Chris Webster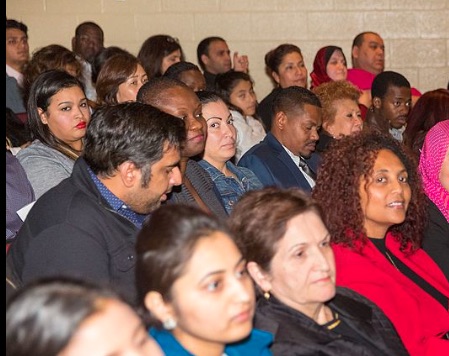 As the United States continues to face record numbers of attempted, unauthorized migrant crossings at its southwest (SW) border, the Biden administration late last month published a new notice of proposed rulemaking that threatens to aggravate the situation and further muddies the administration's mixed messaging on immigration.
If implemented, the newly proposed rule, which will first go through a 30-day comment period and may be subject to change, would deny migrants at the SW border consideration for asylum unless they use "lawful, safe and orderly pathways into the United States" or first unsuccessfully pursue asylum in a transit country (with some exceptions, including for unaccompanied children). In practice this means that affected migrants would need to first secure an asylum appointment through U.S. Customs and Border Protection's (CBP) "CBP One" smartphone application, be eligible for entry through special, country-specific "humanitarian parole" grants, or be formally denied asylum in a country like Mexico to have a chance at U.S. residence.
The administration argues that this new rule is a consequence of Congress's continued failure to reform the country's broken immigration system and necessary to deal with an anticipated further rise in migrants seeking entry at the SW border when Title 42 restrictions end this May (if they actually do). And to be sure, bipartisan compromise on modernized immigration policy—perennially hampered by congressional finger-pointing and heel-digging—appears unlikely to manifest anytime soon now that control of the House has changed hands, despite Republican and Democratic lawmakers agreeing that this reform is long overdue. Still, there are good reasons to doubt the new rule as proposed would prove to be a constructive way forward, and any assurance that it would be merely "temporary" should be met with a healthy dose of skepticism.
Consider first the government's "CBP One" smartphone application. Each day tens of thousands (or more) of migrants hoping for a shot at asylum must contend with technical glitches, spotty service, and confusing directions to register for one of a relatively small number of appointments. This heavy competition, in turn, has meant that it is easier for individuals than those with spouses and/or children to secure appointments, leaving families to go without or make the difficult decision to proceed separately with no guarantee of future reunification in the U.S. While the Department of Homeland Security has promised to make it easier for families through future updates, the technical barriers to entry will remain a major impediment unless a concerted effort is made to remedy them.
How about the alternative of gaining entry by way of humanitarian parole? Earlier this year the administration announced it was extending and expanding its parole program for lawful entry of Venezuelan migrants to additionally include Nicaraguan, Haitian, and Cuban (VCNH) nationals. Under the program, VCNH migrants who have a U.S. sponsor and pass vetting and background checks are allowed to reside and work in the U.S. for two years (with a possibility for extension). More than a month on, it is apparent that program has proven highly successful: as noted by the libertarian Cato Institute, the number of VCNH migrants apprehended, inadmissible, or expelled at the SW border dropped precipitously from 91,330 in December 2022 to 22,082 in January 2023—an almost 76 percent decline. But while these are impressive results, only a subset of migrants can avail themselves of the opportunity, and securing the necessary sponsorship and documentation has proven prohibitive for migrants lacking in resources and connections.
As for the notion that migrants should first pursue asylum in a transit country before receiving consideration by the U.S., it is not unreasonable to believe these countries should pick up more of the slack in providing protection to asylum seekers, but they have thus far shown themselves ill-equipped to do so. For instance, under the controversial Remain in Mexico (otherwise known, rather ironically, as the "Migrant Protection" Protocols) migrants made to languish in Mexico have routinely been deprived of services and targeted for abuse and exploitation (or worse) by corrupt authorities and criminal actors. If the administration's goal is indeed to foster a climate of law and order for migrants at the SW border, it hardly seems productive to leave them in desperate, uncertain circumstances for a prolonged period, much to the benefit of criminal enterprises.
Rather than risk becoming embroiled in a flurry of new lawsuits from migrant advocates—as already appears likely should this new proposal move forward—the administration should instead focus its efforts on bolstering proven (if admittedly imperfect) stopgaps while continuing to work with Congress on a longer-term solution. This might mean, for example, further expansion of the humanitarian parole program to encompass additional countries from which many migrants originate, such as Guatemala, Honduras, and El Salvador, which together were responsible for over 541,000 migrant encounters at the SW border in FY2022. For migrants who cannot meet the requirements under this program, the administration should get serious about boosting the number of appointments available to migrants each day under its CBP One app while simultaneously working to address technical impediments and expanding accessibility, including through new language offerings. The more access migrants have to legal pathways, the less incentive there will be for them to resort to attempts at unauthorized entry.
President Biden campaigned on a promise to "secure our border, while ensuring the dignity of migrants and upholding their legal right to seek asylum." His latest proposal, however, suggests a betrayal of this promise and recalls the regressive, anti-migrant stances of his predecessor. As more migrants than ever before look to the U.S. for assistance, our government must rise to the challenge while continuing to meet its legal obligations to asylum seekers.
Chris Webster is a graduate of The George Washington University's Elliott School of International Affairs, where he received his M.A. in International Affairs and researched and wrote on a wide range of international policy issues. Since graduating, Chris has filled a number of policy-focused roles in the private, public, and nonprofit sectors, including most recently working in outreach for the U.S. Global Leadership Coalition. His work has also previously been published in the Elliott School's peer-reviewed, student-led journal International Affairs Review.
Bibliography
Circumvention of Lawful Pathways, 88 F.R. 11704 (proposed February 23, 2023) (to be codified at 8 C.F.R., pts. 208, 1208). https://www.federalregister.gov/documents/2023/02/23/2023-03718/circumvention-of-lawful-pathways.
DHS and DOJ Propose Rule to Incentivize Lawful Migration Processes. (2023, February 21). U.S. Department of Homeland Security. Retrieved from https://www.dhs.gov/news/2023/02/21/dhs-and-doj-propose-rule-incentivize-lawful-migration-processes.
FACT SHEET: Biden-?Harris Administration Announces New Border Enforcement Actions. (2023, January 5). The White House. Retrieved from https://www.whitehouse.gov/briefing-room/statements-releases/2023/01/05/fact-sheet-biden-harris-administration-announces-new-border-enforcement-actions/.
Finnegan, C. (2022, December 14). Where historic number of migrants is coming from and why: ANALYSIS. ABC News. Retrieved from https://abcnews.go.com/Politics/data-historic-number-migrants-reaching-us-borders-reasons/story?id=95198577.
Isacson, A. (2023, February 17). How the Biden Administration May Keep Asylum out of Reach After Title 42. Washington Office on Latin America. Retrieved from https://www.wola.org/analysis/biden-asylum-after-title-42/.
Mexico: Abuses Against Asylum Seekers at US Border. (2021, March 5). Human Rights Watch. Retrieved from https://www.hrw.org/news/2021/03/05/mexico-abuses-against-asylum-seekers-us-border.
Montoya-Galvez, C. (2022, December 15). Last-minute push to pass bipartisan immigration deal fails, dooming yet another reform effort. CBS News. Retrieved from https://www.cbsnews.com/news/immigration-sinema-tillis-bipartisan-deal-congress-reform/.
Nowrasteh, A. (2023, February 21). Biden's Border Immigration Plan Reduced Crossings, Illegal Immigration, and Border Chaos. Cato Institute. Retrieved from https://www.cato.org/blog/bidens-border-immigration-plan-reduced-crossings-illegal-immigration-border-chaos.
Rosenberg, M. (2023, January 9). Explainer: Why migrants are crossing the U.S.-Mexico border in record numbers. Reuters. Retrieved from https://www.reuters.com/world/americas/why-are-migrants-crossing-us-mexico-border-record-numbers-2023-01-08/.
Solomon, D. B., & Hesson, T. (2023, February 27). Struggling with U.S. asylum app, migrant families split at border. Reuters. Retrieved from https://www.reuters.com/world/us/struggling-with-us-asylum-app-migrant-families-split-border-2023-02-27/.
The Biden Plan for Securing Our Values as a Nation of Immigrants. (2022). Joe Biden for President. Retrieved from https://joebiden.com/immigration/#.
Ward, M. (2023, February 21). Biden to replace Trump migration policy with Trump-esque asylum policy. Politico. Retrieved from https://www.politico.com/news/2023/02/21/biden-trump-migration-policy-asylum-00083873.
Wermund, B., & Trovall, E. (2023, February 27). Biden's new CBP One app panned for trapping asylum seekers in 'daily lottery system'. Houston Chronicle. Retrieved from https://www.houstonchronicle.com/politics/texas/article/users-pan-biden-s-new-cbp-one-app-asylum-seekers-17796732.php.
Comments in Chronological order (0 total comments)