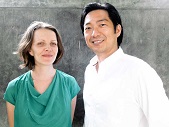 Interview by Rafael Panlilio.
International Affairs Forum: What is Kopernik's role in regards to the existing technology and the "Last Mile Communities" that need them? What kind of support is provided by your organization?
Ewa Wojkowska: We started Kopernik because we saw all of these great technologies existed, but they weren't reaching the people who needed them the most. We believed that we could address this gap and connect the producers of the technologies with people who really needed them. Our work focuses on developing sustainable distribution mechanisms to get simple technologies like solar lights, water filters and clean cookstoves to where they will make the biggest impact.
Toshi Nakamura: Kopernik plays two key roles: one is to let people know about the range of simple technologies that are available and helpful to improve their lives. Once they are aware, we help to develop distribution networks together with local organizations and local businesses, to connect these technologies with the people who need them the most.
IA-Forum: Would Kopernik have been possible without the technological innovations of the past decade? Could you describe the advancements of the recent years that have made an impact on your organization's success?
Ewa Wojkowska: In the past decade, there has been an increased focus on designing products that are appropriate and meet the needs of last mile communities. If those technologies hadn't existed, we probably wouldn't have started Kopernik.
Toshi Nakamura: When we started Kopernik, we saw more and more people becoming interested in designing technology to serve last mile communities. We thought that this would grow and grow.
Ewa Wojkowska: Another technological innovation that has made our work possible has been connecting with individual donors online.
Toshi Nakamura: As e-commerce has grown over the past decade, people have become more comfortable using their credit cards online, and that also extends to making donations online. Crowdfunded donations from people around the world have helped us to connect simple technology with more than 190,000 people to date.
IA-Forum: Kopernik's name comes from Nicolaus Copernicus with the idea that the mission of Kopernik is to change the way people see the world as he did. What change are you looking to enact?
Ewa Wojkowska: Just as Copernicus changed the way people view the world around them, we want to change the way people think about poverty and approach development. We have created a different way of approaching development, making a real impact by creating sustainable distribution systems to connect technologies with the people who really need them.
Toshi Nakamura: I think the most important thing is that we are trying to mobilize new ideas and resources to solve problems in developing countries. I think traditionally development assistance was really closed, just involving governments, donors, multilateral & bilateral institutions. It didn't take advantage of all of the available resources. We want to open the door to new ideas, new products that are being designed, and new people who are interested in being involved. The other thing is giving people choice, using a bottom up process of identifying and understanding the needs in the communities.
IA-Forum: What are the main obstacles that are currently faced by these communities in acquiring that technology and how is Kopernik addressing them?
Ewa Wojkowska: There are three main things: the first one is that often people don't know that these technologies even exist. So we help raise awareness of these technologies through our distribution partners and by conducting Tech Fairs in the communities so people can learn about what is available. The second thing is that there simply aren't distribution systems, so we are working with local partners and shop owners to make the technologies available in their communities. And the third aspect is that often people can't afford to pay for the technology upfront, so wherever possible we work to make flexible payment options available, such as layaway plans, so people can afford the technologies.
IA-Forum: What is the method of sourcing the best technology? What factors determine how these technologies are deemed necessary for these communities?
Toshi Nakamura: We start by looking at the common challenges that many developing countries face: energy, water and sanitation, education, and health. We look for technologies that address these challenges and that are affordable, easy to use, durable - that are appropriate for remote communities. We also collect feedback on the technologies from these communities. Ultimately it is the communities' choice, we make the options available, and they decide what they want. We learn from that.
Ewa Wojkowska: Tech Fairs are a great way of us learning which technologies are going to be most appropriate for that community. People have the chance to interact with the technology, learn how it works, how much it costs, and we get immediate feedback about what will be most appropriate technology in that community.
IA-Forum: How do you advertise your organization to these "Last Mile Communities"? What is the process for these "Last Mile Communities" to find out about and reach out to you?
Ewa Wojkowska: Typically we receive proposals from NGOs, local partners, who work in or with these last mile communities, who submit a proposal for technology through the website. Again, Tech Fairs are a great way to spread the word about the technologies and the opportunity to work with Kopernik. We also engage with communities by recruiting Tech Kiosk owners - Tech Kiosks are small, family-run shops that sell technologies in their communities.
Toshi Nakamura: When we first launched, we received a lot of enquiries organically. These days we are trying to reach out more proactively by contacting NGO forums and donor networks. We still receive a lot of enquiries from word of mouth.
IA-Forum: In terms of reinvesting, describe the successes in raising funds using your website? How many people have played a part in those successes?
Ewa Wojkowska: We are extremely grateful for the support we receive from donors, who make our work possible. We use donations to fund the upfront cost of sending technology to the last mile, and reinvest the sales revenue in more technology. Thousands of individual donors around the world have contributed to Kopernik's projects. We also enjoy the support of corporate partners and foundations who have played an important role in funding projects.
IA-Forum: What's the next step in reaching those in those "Last Mile Communities"?
Ewa Wojkowska: We are working hard to expand the distribution networks that we have established. We view the Tech Kiosk and Tech Agent models as very promising, and want to expand these micro-social-franchises in Indonesia. We are also working to expand our partnerships with local organizations across Asia. And we are always looking to engage with people and organizations who share our passion for serving the last mile, whether technology producers, research partners, foundations or individual donors, there are many ways to get involved.
Ewa Wojkowska is Co-Founder and COO of Kopernik. Prior to that, she worked for the United Nations and the World Bank in Timor-Leste, Indonesia, Sierra Leone, Thailand and New York, focusing on the empowerment of vulnerable and disadvantaged groups. She has extensive experience in human rights and justice, and founded the United Nations Development Programme access to justice program in Indonesia. Ewa also founded Centro Feto, a women's empowerment organisation in Oecusse, Timor-Leste. Ewa has been recognised as an Ashoka Fellow, an Asia 21 Young Leader, Rutgers University's Social Entrepreneur of the Year, and as one of Advance's 50 emerging women leaders.
Toshi Nakamura is Co-founder and CEO of Kopernik. During his ten years with the United Nations (UN) in East Timor, Indonesia, Sierra Leone, the United States and Switzerland, Toshi dealt with governance reform, peace building processes and post-disaster reconstruction. Toshi initiated Sierra Leone's Open Government Initiative to increase the accountability of government leadership, and consequently made transparency a priority while building Kopernik. Prior to joining the UN, Toshi was a management consultant for McKinsey and Company in Tokyo. He holds an LLB from Kyoto University and MSc Comparative Politics from the London School of Economics and Political Science. Toshi is Guest Associate Professor at Osaka School of International Public Policy, Osaka University. Toshi was selected as a World Economic Forum Young Global Leader in 2012. He also sits on Kopernik's board of directors.
Comments in Chronological order (0 total comments)