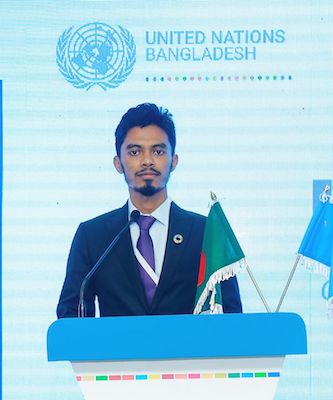 Bangladesh and India are two important actors in South Asia. The importance to each other is not less than any other states because of their geographical proximity, geopolitical correlation, regional connectivity, etc. They also have a common legacy of history, society, and culture in several spheres. Thus, the relation between Bangladesh and India has numerous imperatives in internal as well as external discourses. The politics, economics, trade, connectivity, etc. are discussed much in this arena, but environmental and hydrological issues are comparatively less focused, though this issue is highly important in terms of politics, economics, energy, security and so on.
Recently, Bangladesh celebrated 50 years of its birth anniversary. On this occasion, several introspective analyses were raised pointing to domestic and foreign issues of the country. The Bangladesh-India relation is highly relatable in these analyses as the relation between two countries was incepted at the very beginning of the birth of Bangladesh. Though Dhaka and Delhi extols to continue a good neighborhood policy, debates enunciate what actual success the Bangladesh-India relation achieved during this time. The most questioned issue is the water politics. Being geographically most proximate neighbors, they share 54 common rivers, large area of land and marine border. They also share world's largest mangrove forest, the Sunderbans. Thus, hydrological and environmental issues are inevitable in this perspective.
Geographically, the area was constructed by Ganges-Brahmaputra-Meghna river basin. The Ganges river system is the part and parcel of the livelihood of peoples living in Bangladesh and India. But the contention on water sharing and hydrological management is still unresolved. India built a barrage on this river before the independence of Bangladesh. It results adversely impactthe total ecosystem of the area including demolition of surface and groundwater, degraded fisheries, increased salinity, and contaminated/reduced water supplies, which began to affect public health, etc. The Indo-Bangladesh Joint Rivers Commission was established in 1972 andthe Ganges Water-Sharing Treatywas signed in 1996, but specialists criticize that India solidified its status quo neglecting the mutual implications on ecology and society.  The Farakka Barrage has caused a huge number of natural and social results, counting the expanded probability of flooding amid rainstorm seasons and the mass influx of environmentally displaced people. It also makes secondary social conflict.
Other trans-boundary rivers are also facing similar threats. Due to the rapid industrialization, urbanization, and lack of proper treatment projects, rivers of the delta are in a vulnerable situation. The case of Teesta demonstrates immense failure of Bangladesh-India relations regarding hydro-environmental collaboration. Originating in the eastern Himalayas, the Teesta river flows through the Indian states of Sikkim and West Bengal and into Bangladesh where it meets the Brahmaputra River before reaching the Bay of Bengal. Due to the objection of Chief Minister of West Bengal, the signing of an agreement between Bangladesh and India was postponed in 2011. And Bangladesh has been suffering since India established a dam in 2007 on this river. As a result, Bangladesh turned into China to initiate Teesta River Comprehensive Management and Restoration project.
World's largest mangrove forest the Sunderbans situated at the shore of the Bay of Bengal. It also covers a trans-boundary landscape of approximately 10,000 sq. km encompassing both India and Bangladesh. This forest is characterized by a complex network of tidal waterways, mudflats, and small islands of salt-tolerant mangrove forests in the estuarine zone and coastal areas. This unique ecosystem is also under threat due to climate change implications such as sea level rise, coastal erosion, hydro-meteorological disaster, and human induced destructionsuch as human encroachment, illegal logging, tourism industries, unplanned development projects, forest clearing, and related land use. Optimistically, both of the countries reached a commitment to manage the forest jointly in 2011. The inclusion of joint management, knowledge sharing, and consideration of mutual safeguard of the ecosystem is a positive development resolving trans-boundary environmental problems.
The maritime boundary is a crucial issue in Bangladesh-India relation. The maritime boundary demarcation issue between Bangladesh and India was resolved by Permanent Court of Arbitration (PCA) in 2014. Both Bangladeshi and Indian representatives commended the administering. Bangladeshi Foreign Minister called it a "victory of friendship and a win-win circumstance for the people groups of Bangladesh and India." In the meantime, the Indian Service of External Affairs said, "The settlement of the sea boundary will encourage upgrade mutual understanding and goodwill between India and Bangladesh by bringing to closure a long-pending issue." Though both of the countries are interested in maritime connectivity and trade, their focus on environmental management of marine ecology is not up to the mark. Nonetheless, the littoral of Bay of Bengal is infamous for frequent cyclones. As a huge number of people of both the nations live in this coastal region and are subordinate on the ocean for their livelihood, these calamities frequently change into fiascos. In many past episodes, it has been seen that the cyclones which made landfall in West Bengal have influenced Bangladesh and vice versa. Hence, there's scope for collective engagement in disaster management bilaterally.
The Ganges-Brahmaputra-Meghna river basin, coastal area of the Bay of Bengal is also highly vulnerable to climate change. Specialists warn that severity of droughts and intensity of floods in this area are likely to increase. The United Nations World Water Development Report (WWDR) 2015 emphasized that hydro-environmental sustainability would create social, economic, financial, and other benefits that would extend to poverty alleviation, health, education, food, and energy production. Thus, water, environment, ecology should be topmost agenda for Bangladesh-India relations.
Sharif Mustajib has completed a Master's and Bachelor's degree from the Department of International Relations, University of Chittagong. Besides, he is the founder and Editor-in-Chief of the Voice of International Affairs.
Comments in Chronological order (0 total comments)