Introduction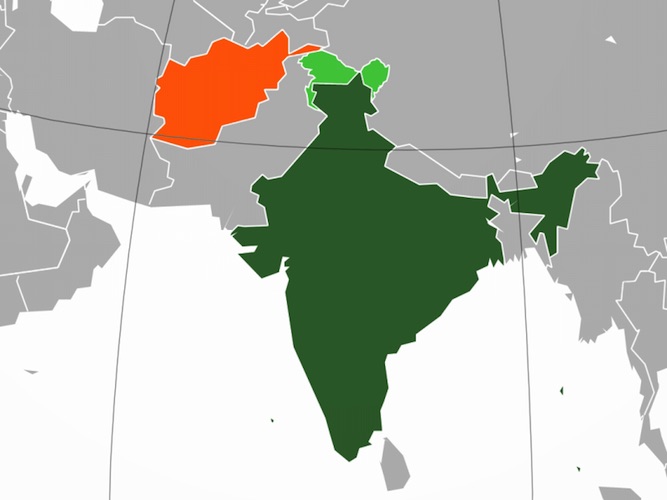 Since the return of the Taliban regime in Kabul, India has been vocal about its concerns over instability, terrorism, human rights violations, etc. in the region and has tried to establish regional unity to tackle the emerging threat. Last year, addressing the SCO Meet, and again during the recent India-central Asia summit, PM Modi has pulled focus over regional implications ensuing out of Afghanistan. Since a common interest was at stake, the summit agreed to the formation of a Joint Working Group[1] to monitor the developments in Kabul. The Summit followed by the Delhi Declaration[2] comes as a major advancement in India's Foreign policy in a 'Taliban ruled Afghanistan'.
Indo-Afghan linkages can be dated back to the Indus Valley Civilization. With connections so old, the relationship between these two neighbours has witnessed various highs & lows. India's foreign policy in Afghanistan makes for an interesting discussion due to: a. unstable nature of the Afghan Regime, b. Afghanistan's geopolitical significance, c. Indo-Pak-Afghan dynamics, and d. The China angle. India has rather been caught by surprise with the sudden ouster of the Ghani government. From declaring claims that India's Minister for External Affairs, S. Jaishankar met Taliban Leaders in Qatar as 'Completely False[3]', to publicly establishing a dialogue with Taliban's senior leadership[4], India seemed confused in the initial months post the Taliban take-over. However, the need of the hour is a new & comprehensive approach towards Afghanistan keeping in the context that the Taliban leadership has visited Russia, Pakistan, Iran, Turkmenistan, and China, but not India. Taliban took over India's attack helicopters[5] and sabotaged Indian assets, these actions paint a worrisome picture of the militant group's attitude towards India.
The History & Evolution of Indo-Afghan Relations
An Enemy's Enemy
When India gained independence in 1947 and Pakistan was formed, the territories in Baluchistan which originally belonged to Afghanistan were handed over to the new state by the British. The Emir of Afghanistan did not accept the Durand Line. The friction between Afghanistan and Pakistan invariably brought New Delhi & Kabul closer. However, India's neutral position on USSR's intervention in Kabul acted like a detour in the India-Kabul friendship. The Non-Aligned Movement (NAM) was a strong voice in international politics during the 1980s. India, as one of its founders and primary movers, found itself in a bind when its superpower partner, the Soviet Union, chose to intervene in Afghanistan's domestic affairs. For the Afghans, it became a battle between the U.S and Pakistan on one side U.S.S.R and India on the other.
'Strategic Depth' and 'Deep State'
The second phase of India's Foreign Policy in Afghanistan was governed by the outcomes of the Cold War Era. The 1991-2001 decade witnessed a tumultuous relationship between the two nation-states owing to the emergence of Mujahideens, Civil wars, and growing religious extremism. The tipping point came when a Pakistan-supported militant group 'The Taliban' came to power in 1996. During this period, India extended its support to the Northern Alliance[6]. In the meantime, Pakistan implemented its 'Strategic Depth Policy' –whereby it used Afghanistan as a political instrument and strategic hedge[7] vis-a-vis India. This was complemented by the increasing indulgence of Pakistan's deep state in Kashmir. In her book, Ayesha Jalal remarks, "The tactic of pushing battle-hardened militants from Afghanistan across LOC to wage a low-intensity war against Indian security forces in Kashmir was designed to keep the subcontinent's most contentious dispute in the international gaze."[8] India siding with the Northern Alliance also put one of India's vulnerabilities in the forefront that India's Afghanistan policy relied on external powers. Lalit Mansingh, former foreign secretary of India from 1999 to 2000, said, "India by itself cannot play a major role in the security situation of Afghanistan."
An Amicable Soft Power
The era post the fall of the Taliban regime was one of friendship, cooperation, and partnership. India invested $3Billion[9] towards Infrastructure projects in Afghanistan, and went ahead to open four consulates in Mazar-e-Sharif, Kandahar, Herat, and Jalalabad[10]. India signed the Strategic Partnership Agreement in 2011 with the then President Hamid Karzai which reaffirmed the two States' robust, vibrant, and multidimensional ties[11]. India, in this phase, viewed Afghanistan as a bulwark against Islamist militancy[12].
Scholars agree that India's soft power resources are vast and multi-fold, ranging from sports to cinema, from music to literature and so on[13]. India's objectives towards Afghanistan were clear –a. deterring the rise of Islamic Militancy; b. peaceful Afghanistan; c. strong economic ties; d. long term cross-border engagement. To fulfil these objectives, India took a soft power approach in Afghanistan, unlike in the previous phase where it sided with the Northern Alliance. The goal now was to raise 'political capital'[14]. To elucidate it further, India's policy towards Afghanistan could be broadly divided into three focus areas: a. Large Scale Infrastructure Projects (Zaranj-Delaram Highway, Salma Dam); b. Small Scale Development Projects; c. Humanitarian Aid (Indira Gandhi Children's Hospital, Kabul). Afghanistan is a landlocked country that has been relying on Pakistan's Karachi port for maritime access. This advantage has given Islamabad significant influence in Kabul, which it has used to exert pressure on Afghan governments on several occasions. The situation altered, much to Pakistan's dismay, when India finished the construction of a 135-mile road connecting Afghanistan's Nimroz province with the Iranian port of Chabahar[15].
The Return of Taliban: Changing Central Asian Dynamics
The final and latest phase in Indo-Afghan relations is the present phase, where the Taliban toppled the Ghani government and assumed power. The chessboard now has drastically changed. Iran and Russia, who were once on the same side as the Northern Alliance, are on a different boat. The American departure came as a sigh of relief and has led to increased dialogue between Moscow, Tehran, and Kabul. China & Pakistan are making efforts to deprive India of its strategic space and maintain its prominence in the region. Considering Pakistan's tactics and policies adopted during the previous Taliban take-over, it's natural to expect the resurgence of 'strategic depth'. However, analysts suggest that Pakistan's control over the Taliban gas gradually faded[16]. China, unlike other countries who were occupied with evacuating their embassies and diplomats, chose to keep its embassy open. China has two major objectives to fulfil –a. a safe environment for Chinese infrastructure projects and b. the isolation of Uyghur militants[17]. Iran is seemingly welcoming of the new regime, as long as the Taliban refrain from persecuting the Shia Hazaras.
The India-Taliban Conundrum
India is again put in the spot where it is engulfed by the political conundrum to deal with the Taliban. India's interactions with the Taliban have been limited and unfortunate, especially for India. Taliban had hijacked the Indian Airlines flight IC 814 on December 24, 1999, in Kandahar. The eight-day hostage crisis ultimately came to an end when India released three militants in exchange for the lives of the passengers.
India's policy towards the Taliban has been hesitant. The unwillingness to put actual foot on the ground has resulted in a confused policy towards the Taliban. Earlier, the India-Taliban relationship was hugely influenced by the actions of the United States[18]. In 2010, India unofficially recognized the Taliban as a political actor but refused a dialogue owing to the latter's indulgence in Pakistan's anti-India agenda. When the Taliban returned to power, India maintained a strong position that it was against any kind of engagement with the militant group. However, in October 2021, India participated in a meeting of 10 nations with Taliban officials in Moscow[19]. This is the 'new reality' and India has finally realised that non-engagement is not a viable option anymore.
It is still too early to assess whether this Taliban is a 'new Taliban' or not. It has time and again claimed that it would not let terrorism foster on Afghan soil, so it becomes crucial for India to make them walk the talk. India's encounters with the 'old Taliban' had been very complicated. The militant group had close ties with JeM and LeT. The last time the Taliban was in power, India saw an exorbitant increase in terrorist activities in Jammu and Kashmir. But it would be wrong to assume that India has been opposed to reconciliation with the Taliban owing to past stand-offs. Pakistan's influence over the Taliban has been a vital issue. However, the new Taliban regime, as mentioned above, is not controlled by Pakistan, and India seems to have acknowledged that. In December 2021, India dispatched the first consignment of life-saving medicines to Afghanistan.[20] As a response, the Deputy Spokesperson for the Islamic Emirate of Afghanistan took to Twitter that, "India-Afghanistan relations are very vital."
The New Approach
The India-Central Asia Summit suggests that India finally is taking a proactive stand on Afghanistan. India has aligned with the Anglo-American camp in the international line-up arrayed against the Eurasian axis of Russia, China, and Iran[21]. This is a drastic change. India would be compromising its relationship with Iran to a certain degree but would gain prominence in QUAD owing to its geopolitical positioning. India has found a new West Asian Alliance in Israel, U.A.E, & U.S. From this point onwards, it could be predicted that India would put more focus on QUAD & AUKUS, with due indifference towards groupings such as the 'Troika Plus'. However, the harsh reality is India cannot virtually predict anything. China and Russia are exercising great control over the situation, and India's influence in groupings like QUAD wouldn't be of much help when it comes to Kabul.
Bilateral ties with the Kabul government seem impossible. India seized leverage from the Doha Talks or set up communicative channels with China. It became inevitable to opt for an 'Act Central Asia Policy'[22]. In pursuance of this, it seems India is finally being recognized as a stakeholder in Afghanistan. Developing a better relationship with Central Asian countries would call for disapproval from the Sino-Pak angle. Therefore, it is crucial for India to keep a check on such obstacles.
Another plausible action to counter the Pakistan interference could be the Durand Line. The Pashtun regions hold historical significance for the Taliban. India can raise the point of Human Rights violation in the Khyber Pakhtun region by Pakistan and volunteer to provide legal assistance to Afghanistan on the dispute. Through this, India could make a bilateral relationship with the Kabul government a possibility.
Conclusion
India's foreign policy in Afghanistan has witnessed variations of great magnitude. From siding with the Northern Alliance led by U.S.S.R & Iran to finding Solace with the U.S. Camp, India's journey has been that of confusion, dilemmas, and setbacks. New Delhi has enjoyed amicable partnerships with democratically elected governments in Kabul. Afghanistan, owing to its geographical location, is a necessary connecting link into Central Asia for India, and its geopolitical importance cannot be undermined. The ouster of the Ghani government, and the Taliban's return to power, was a turn of events not many were prepared for, especially in India. Taliban and India do not share a good history. The former is not a foe who could be trusted easily. Only time can tell the truth in the Taliban's commitment to peace. However, it is in India's best interest to take center stage and not function in someone else's shadows. Considering the contemporary developments in India-China tensions, Sino-Pak friendship, and the possible Sino-Pak-Afghan partnership, it has become vital for India to effectuate a new axis. India's ties with Israel and U.A.E would prove beneficial, along with its attempts at growing its influence within Central Asian countries. India could leverage out of the Taliban's disinterest in Islamabad. New Delhi would have to develop amicable relations with Kabul, bilateral preferably, without compromising on its ideals and values.
Harshita Tyagi is a Second Year Law student, pursuing B.L.S LL.B from SVKM's Pravin Gandhi College of Law, Mumbai University. She has keen interest in International Commercial Arbitration, Public International Law, Data Privacy, and International Relations & Foreign Policy. She has previously written pieces analyzing the Justice Against Sponsors of Terror Act and the U.S - E.U Data Security Tensions.
---
[1] Haidar, Suhasini. "Central Asia Meet forms Afghan group." The Hindu. Jan 28, 2022. https://www.thehindu.com/news/national/prime-minister-narendra-modi-addresses-india-central-asia-summit-through-video-conference-on-january-27-2022/article38334622.ece
[2] Delhi Declaration on Afghanistan," Ministry of External Affairs, Nov. 10, 2021. https://www.mea.gov.in/bilateral-documents.htm?dtl/34491/Delhi_Declaration_on_Afghanistan
[3] " 'Completely False': India on Claims of Jaishankar Meeting Taliban Leaders in Qatar;" The Wire, June 29, 2021. https://thewire.in/diplomacy/completely-false-india-on-claims-of-jaishankar-meeting-taliban-leaders-in-qatar
[4] Parashar, Sachin. "Taliban kosher? India confirms meeting with senior leader" The Times Of India. Sept. 1, 2021.https://timesofindia.indiatimes.com/india/taliban-kosher-india-confirms-meeting-with-senior-leader/articleshow/85815824.cms
[5] "Taliban Gain Control of Mi-24 Attack Helicopter India Had Gifted Afghan Forces," India Today,  August 12, 2021. Taliban gain control of Mi-24 attack helicopter India had gifted ...https://www.indiatoday.in › World
[6] Vinay Kaura, "India-Afghanistan Relations in the Modi-Ghani Era," Indian Journal of Asian Affairs , Vol. 30, No. 1/2 (June-December 2017), pp. 29-46, https://www.jstor.org/stable/10.2307/26465815.
[7] "Pakistan's 'Strategic Depth Policy' behind 'unbearable suffering' of Afghans," ANI, June 23, 2021.  https://www.aninews.in/news/world/asia/pakistans-strategic-depth-policy-behind-unbearable-suffering-of-afghans20210623231647/
[8] Ayesha Jalal, "Democracy Restored?" in The Struggle For Pakistan: A Muslim Homeland and Global Politics, (Cambridge, Massachusetss, The Belknapp Press of Harvard University Press, 2014), 298. The Struggle for Pakistan: A Muslim Homeland and Global Politicsbooks.google.co.in › books
[9] Dharanidharan Sivagnanaselvam & Brian Wong, "India and the Taliban: The Case for Constructive Engagement," The Wire, September 4, 2021, https://thewire.in/diplomacy/india-taliban-constructive-engagement
[10]  Harsh V. Pant, "India in Afghanistan: a test case for a rising power," Contemporary South Asia 18,  no. 2 (June 2010): 136, Taylor & Francis Online. https://doi.org/10.1080/09584931003674984
[11] "India-Afghanistan Relations," Ministry of External Affairs, Gov. Of India, August, 2012 (accessed on January 29th, 2022). https://www.mea.gov.in/Portal/ForeignRelation/afghanistan-aug-2012.pdf
[12] Supra 9.
[13]Peerzada Tufail Ahmad, "A Study of India's Policy in Afghanistan Since 2001," Kardan Journal of Social Sciences and Humanities 4 (1) 34–43, 2021 Kardan University, Kardan Publications, Research Gate, June, 2021. https://www.researchgate.net/publication/353206126_A_Study_of_India_s_Policy_in_Afghanistan_Since_2001
[14] Ibid.
[15] Supra 6.
[16] Saheli Roy Choudhury, "From India to China, the Taliban's return leaves Afghanistan's neighbours scrambling to adjust," CNBC, August 17, 2021.
https://www.cnbc.com/2021/08/18/afghanistan-taliban-impact-on-pakistan-india-china-russia-iran.html
[17] ibid
[18] Pratyush Dubey, "Talking With the Enemy: Why India Needs to Engage the Taliban," The Diplomat, Dec 19, 2018. https://thediplomat.com/2018/12/talking-with-the-enemy-why-india-needs-to-engage-the-taliban/
[19] Reuters, "Russia presses Taliban to open up government," The Hindu, Oct. 21, 2021.
https://www.thehindu.com/news/international/russia-presses-taliban-to-open-upgovernment/article37097673.ece
[20] "Taliban thanks New Delhi for aid, says India-Afghanistan ties 'very vital', " The Times of India. Dec. 12, 2021. https://timesofindia.indiatimes.com/world/south-asia/taliban-thanks-new-delhi-for-aid-says-india-afghanistan-ties-very-vital/articleshow/88237922.cms
[21] M.K. Bhadrakumar, "Is the Indian foreign-policy ship changing course?," The Indian Express, Oct. 21, 2021. https://indianexpress.com/article/opinion/columns/is-the-indian-foreign-policy-ship-changing-course-7580524/
[22] S.D. Pradhan, "Delhi Declaration at the India-Central Asia Summit: India launches 'Act Central Asia policy'," The Times of India, January 31, 2022. https://timesofindia.indiatimes.com/blogs/ChanakyaCode/delhi-declaration-at-the-india-central-asia-summit-india-launches-act-central-asia-policy/
Comments in Chronological order (0 total comments)