A world in disorder. That is the reality that we must face. Climate change is causing billions of dollars in damages and countless deaths each year. The extreme weather events behind these disruptions are expected to increase in the coming years. Furthermore, our biodiversity is being lost at an astonishing rate. One million species are at risk of extinction in our lifetimes.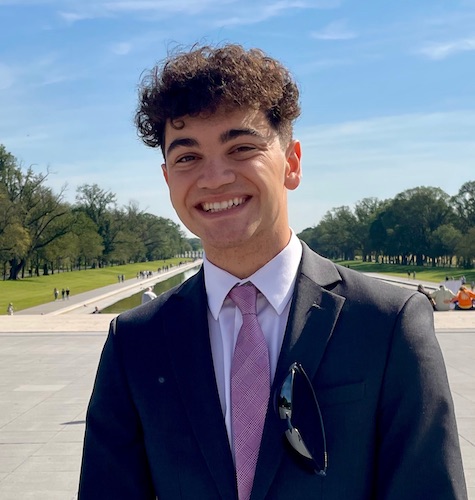 These crises are only being compounded by the world's backsliding progress on extreme poverty. Since 2020, 86 million people have been pushed into extreme poverty. COVID-19 was mostly responsible for this increase but climate change, already responsible for the slowing rate of poverty reduction, was a significant contributing factor as well.
Extreme poverty often necessitates that natural resources be exploited in an unsustainable fashion for survival. Forests are cleared, animal populations are decimated, and water sources are depleted. These changes make the environment more susceptible to climate change and exacerbate its rise.
Yet, a new way of conceptualizing the environment could help bring progress to both environmental conservation and sustainable development. Economizing the natural world – valuing it in economic terms and leveraging natural capital – can provide the impetus for its conservation while promoting prosperity for the communities that live alongside it.
Economizing Nature: Ecosystem Services Valuations
Ecosystem services valuations are the backbone of economizing nature. Ecosystem services refer to what the environment provides us. This includes air purification, flood mitigation, food provisioning, and a plethora of other services. These services are valuable to us as they make life on our planet livable. We would simply cease to exist without the environment.
And these services have value. Their valuation is currently estimated at $33 trillion USD yearly. This should be understood as a vast underestimate. The field of ecosystem services valuations is just emerging.
Ecosystem services' price tag thus allows a greater pool of people beyond environmentalists to understand the value of nature. Conserving nature is no longer just for the inherent need to protect our great ecosystems and biodiversity, it is a fiscally smart and responsible decision.
The degradation and destruction of the environment is shown to come as a cost. Humanity loses out when we choose to use the environment in an unsustainable manner. Natural capital is lost when ecosystem services are degraded or destroyed. It is often far more costly and inefficient for human made infrastructure to compensate for our lost ecosystem services. A water treatment plant's initial construction often runs into the millions, not to mention the associated maintenance and operations costs of the facility. Yet, the choice to conserve wetlands averts this need as they already purify water at a cheaper and more efficient rate.
Consequently, conserving nature is a rational decision. It does not only avoid future costs but has the potential to create a resilient economic system for the world.
Sustainable Economic Development from Natural Capital
It would be nonsensical for the world to not profit off the rich array of ecosystem services and natural capital that the environment provides us. Both extractive and non-extractive industries should use the environment to their benefit. However, use must be done in a sustainable approach to ensure that future generations can derive similar benefits in a healthy world.
The sustainable use of the environment and its natural capital requires guidelines. Fortunately, ecosystem services valuation can be the guidelines. These valuations can both manage extractive industries sustainably while promoting the importance of non-extractive industries.
Extractive industries require that natural resources be taken from the environment to function. However, just how large that take is will define if the industry can be sustainably managed in the long run. Too large and the environment will be exploited quickly. The people who rely on that industry for jobs will soon be unemployed and the environment will be degraded. Too small and the industry will not be competitive and able to sustain itself. Ecosystem services valuations provide the answer for how large that take should be, just enough to sustain a thriving local community while conserving their environment.
The case of Palu's fisheries is one of the best examples of sustainable use of natural resources. Palu, a small Pacific Island country, banned fishing in 80% of its national waters. Projections predict that the ocean ecosystem will rebound while giving the local fishing and diving industries a boost. Similar uses of ecosystem services valuations to find the balance between industry and conservation can help the logging industry, agriculture industry, and other extractive industries succeed.
Finally, ecosystem services valuations can truly justify natural capital in its own right. It may be more beneficial to conserve the natural world than exploit it. Natural capital is no longer destroyed, but rather conserved for its beauty, raising the significance of non-extractive industries
The ecotourism industry can most benefit from this as large nature preserves can be established, free from economic activity that would alter or damage the environment. Rwanda embraced ecotourism and is now home to Africa's largest population of gorillas and one of the continent's most lucrative tourism industries. Jobs were created both in the parks and in adjacent sectors to provide for tourists. The country has also embraced tourism revenue sharing where a portion of tourist dollars is reinvested into local communities and is used to build schools, health facilities, and community centers.
Rwanda's and Palu's choices to use their natural capital sustainably shows that economization of the environment can balance prosperity with conservation, creating a model for the world. A model that can usher in a new way of seeing the environment as an engine for sustainable economic development.
Justin Gulino is a graduate of the George Washington University where he double majored in International Affairs and Environmental Studies. He was a member of GW's Global Bachelor's Program where he studied in New Zealand at the Victoria University of Wellington for two semesters. He then interned at the world's first urban eco-sanctuary, Zealandia, where he published a report that outlined the Kaiwharawhara's, a local watershed, ecological, cultural and recreational values. He now works as the Wildlife Fellow for the National Caucus of Environmental Legislators and specializes in Conservation Policy. Justin is heading to Duke's Nicholas School of the Environment to pursue a Master's in Environmental Management in their Ecosystem Sciences and Conservation Program area.
References
Chee, Y. E. (2004). An ecological perspective on the valuation of Ecosystem Services. Biological Conservation, 120(4), 549–565. http s://doi.org/10.1016/j.biocon.2004.03.028 
Chuhan-Pole, P., Angwafo, M., Nielsen, H., & Spenceley, A. (2011). Chapter 14: The Success of Tourism in Rwanda: Gorillas and More. In Yes africa can: Success stories from a dynamic continent (pp. 231–249). essay, World Bank.
Dian Fossey Gorilla Fund. (2019, December 16). Census of mountain gorilla population shows numbers continue to rise - Dian Fossey -. Dian Fossey Gorilla Fund. Retrieved May 1, 2022, from https://gorillafund.org/dian-fossey/bwindi-census/#:~:text=The results show that the,Fund assisted the Bwindi survey.
Economic Commission for Latin America and the Caribbean. (2022, January 28). Extreme             poverty in the region rises to 86 million in 2021 due to the deepening of the social and health crisis prompted by the COVID-19 pandemic. Press Release | Economic Commission for Latin America and the Caribbean. Retrieved May 1, 2022, from https://www.cepal.org/en/pressreleases/extreme-poverty-region-rises-86-million-2021-due-deepening-social-and-health-crisis
KASPERSKI, S. T. E. P. H. E. N., & WIELAND, R. O. B. E. R. T. (2009). When is it optimal to delay harvesting? the role of ecological services in the Northern Chesapeake Bay Oyster Fishery. Marine Resource Economics, 24(4), 361–385. https://doi.org/10.1086/mre.24.4.42629662
Khoday Regional Team Leader for Nature, K., & Ali UNDP Regional Climate Change Specialist, W. (2018, December 19). Climate change and the rise of Poverty: United Nations Development Programme. UNDP. Retrieved May 1, 2022, from https://www.undp.org/blog/climate-change-and-rise-poverty
Maler, K.-G., Aniyar, S., & Jansson, A. (2008). Accounting for ecosystem services as a way to understand the requirements for Sustainable Development. Proceedings of the National Academy of Sciences, 105(28), 9501–9506. https://doi.org/10.1073/pnas.0708856105 
Marshall, K. (2018, November 28). How much does an industrial water treatment system cost? Samco Tech. Retrieved May 3, 2022, from https://www.samcotech.com/how-much-does-an-industrial-water-treatment-system-cost/#:~:text=For most industrial applications, a,equipment, installation, and startup.
Pagiola, S. (2008). Economics and conservation in the Tropics: A strategic dialogue. Resources for the Future. Retrieved May 3, 2022, from https://www.resources.org/common-resources/economics-and-conservation-in-the-tropics-a-strategic-dialogue/
Pew Charitable Trusts. (2015, September). Palau National Marine Sanctuary: Building Palau's future and honoring its past. Pew Charitable Trusts. Retrieved May 3, 2022, from https://www.pewtrusts.org/-/media/assets/2017/07/palau_update2017_v6.pdf?la=da&hash=907CE51CE1314E4AFBA697DA0640C86A01A211BF
Purvis, A. (n.d.). Explanatory Note: How did IPBES estimate '1 million species at risk of extinction' in #globalassessment report. IPBES secretariat. Retrieved May 1, 2022, from https://ipbes.net/news/how-did-ipbes-estimate-1-million-species-risk-extinction-globalassessment-report
Whiting, K. (2019, December 11). This Pacific Island has banned fishing from 80% of its Waters. World Economic Forum. Retrieved May 2, 2022, from https://www.weforum.org/agenda/2019/12/palau-pacific-marine-conservation-fishing-environment/
Comments in Chronological order (0 total comments)